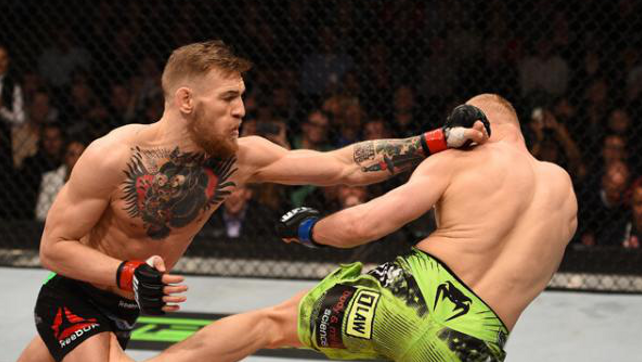 UFC featherweight prospect Conor McGregor is the real deal, period. The Irishman abolished Dennis Siver at UFN 59 last night and cemented himself a title shot with the champion, Jose Aldo. A fight McGregor envisioned since his UFC debut in early 2013 is now being targeted for Memorial Day weekend in Las Vegas.
Although, McGregor's dream venue is the Croke Park Stadium in Dublin, Ireland, White explained it's an impractical choice for the fight during the UFN 59 post-fight presser. Therefore, McGregor will meet Aldo in the MGM Grand Garden Arena, a venue which has a seating capacity of 16,800 people.
There's a lot of obstacles for Croke Park, the time, they have a curfew at night where you can't get permits to stay out that late and do an event there. You lose about 25 to 30 percent on pay-view being in another country. The amount of money on the production for Croke Park, and I can guarantee you it's going to rain. … I'm not saying we're never going to do it, but Vegas for this one, said White.
For those that missed UFN 59, McGregor ended up dominating Siver throughout most of the fight and eventually winning by TKO in the second round at 1:54. He showed excellent takedown defense while controlling Siver with strikes and measuring distance on the fly.
One thing that's really good about his style, he has a very good eye for distances, he could judge distance very well, said Siver.
After the fight, McGregor jumped the cage and confronted the Brazilian in the crowd.
---
UFN 59: Conor Mcgregor Jumps the Cage and Confronts Jose Aldo
https://www.youtube.com/watch?v=10AFBGk47Gk