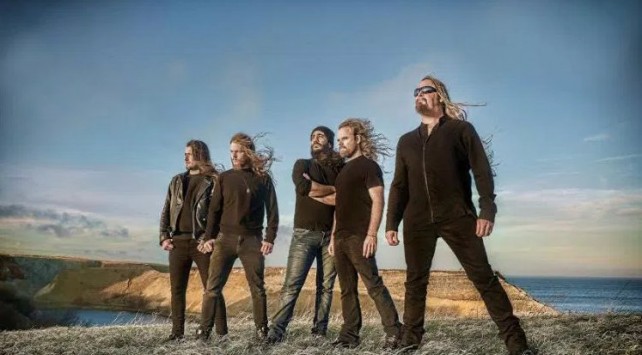 Earlier last week, new progressive thrash metal band, One Machine, released the video for "Forewarning," which we brought to you with great enthusiasm. Shortly after the video release, on September 18th, the band released their second full-length album, The Final Cull, via Scarlet Records.
Featuring guitarist/songwriter Steve Smyth (Testament, Nevermore, Forbidden, Dragonlord, Vicious Rumors), One Machine delivers a crazy good mix of thrash metal, progressive metal, power metal, and much more. With their unique blending of styles they avoid sounding like anyone else, and they sure as fuck don't sound cheesy doing it. It's clear that their sole purpose is to thrash hard and heavy — and that, Yellers, is always a good thing!
If you're curiosity is piqued, head on over to Metal Injection for a full album stream of The Final Cull. You know you're going to like it, so make sure to order the album here.
The Final Cull was tracked at Death Island Studios, with Marco Angioni and Tue Madsen helming.
European fans can catch One Machine on tour this fall! See below for all currently confirmed tour dates.
One Machine European Tour Dates:
Friday, September 18th – London UK @ Barfly Camden
Saturday, September 19th – Westbury UK @ Charlies Westbury
Wednesday September 23rd – Norwich UK @ B2
Thursday September 24th – Glasgow UK @ Audio
Saturday September 26th – Manchester UK @ Club Academy
Friday October 2nd – Dublin, Ireland @ Fibber Macgees
Saturday October 3rd – Belfast UK @ Limelight 2
Saturday October 10th – Cardiff UK @ Fuel Rock Club
Saturday October 17th – Leicester UK @ Ragefest, Firebug
Friday October 23rd – Southampton UK @ Firehouse
Saturday October 24th – Oxford UK @ The Cellar
Thursday November 19th – Newcastle UK @ Trillians
Friday November 20th – Manchester UK @ TBC
Saturday November 21st – Lowestoft UK @ Attitude Fest
Sunday November 22nd – Bristol UK @ Tunnels
Rock Hard \m/