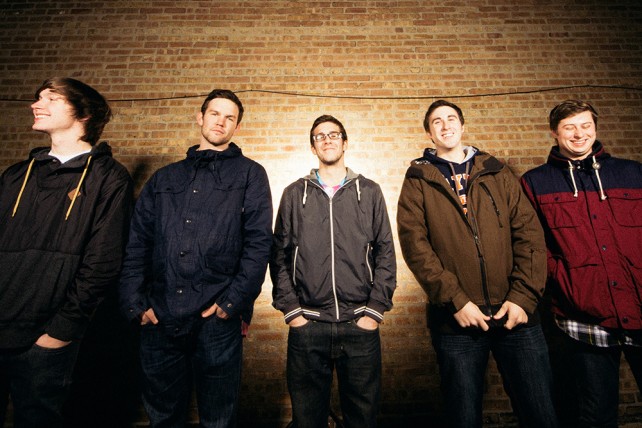 Chicago's very own pop-punk band, Knuckle Puck, has been blasting through the Vans Warped Tour this year, and they have their debut album, Copacetic, releasing via Rise Records is just a few days. I talked with guitarist Kevin Maida on July 26th, about their new album and playing the Warped Tour.
---
Your debut album, Copacetic, is out next week. Are you nervous, stoked, or both?
Well it's basically out already 'cause it's been streaming, so like I think the first day it was streaming I was a little nervous, but I was more excited if anything. I have just wanted people to hear it for the longest time.
I know it is a little early, but have you seen any of the reception of the album?
Everyone is really liking it a lot. For the most part that is what I have seen. It is just cool, it makes you feel better.
Order Copacetic here!

You guys just played Chicago right?
Yeah, yesterday.
How was that, since it was a hometown show?
It was insane. We had a lot of friends and family come out. I was able to go home for a couple hours. That was where we grew up going to Warped Tour since I was 15, it was cool playing it, ya know?
How is the tour overall?
It's been great. It's a tour like anything else and it has just been so fun honestly.
Who has been your favorite band to watch?
Citizen, Moose Blood, Alvarez King is a sick band. Have Mercy, Hundredth, Transit.
Transit is so cool, I always forget how long they have been doing it.
I have been listening to that band since I was in high school. It is insane to see the evolution of their sound, especially up until Joyride.
Joyride was so sick.
Aw man. We were listening to Joyride the other day in the bus and it's just like Holy shit, this is so good. Every song.
What is your favorite new song to play? Do people already know the lyrics?
We have been playing "Disdain," the second song off Copacetic. We have been playing it since the first day of the tour. Not everyone really knew it, but it has just gotten so much better. We put out that song pretty recently and it is cool to see people singing along and knowing the words.
So how is it playing this festival vs. small club/venue shows? Have you had to change the way you approach it?
One thing you have to get used to is the weather. When you play indoors and it is raining, the only thing you have to worry about is getting the gear inside. Outside all day, set could get canceled if it thunders. Moving your gear such long distances is weird. all depends on the terrain. Today we have the pavement and dirt. Other places it is just gravel all over the place. I guess geographically it is weird getting used to. It has been good.
Any last words?
Tour has been great, Copacetic comes out in five days. Holy shit, five days!