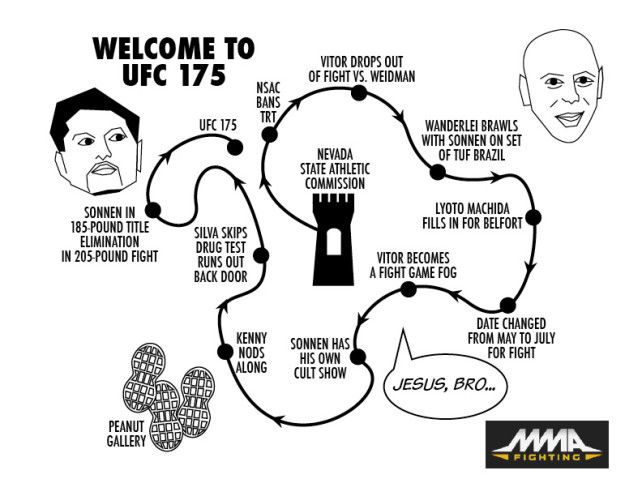 If you're really looking forward to the fight between Chael Sonnen and Wanderlei Silva in July, get ready to be disappointed today. All the drama and controversy that took place on TUF: Brazil 3 can now be forgotten since Mr. Silva will no longer be on the fight card for UFC 175. That's right! Silva failed to submit his application to fight in the state of Nevada, and has refused to take a random drug test, according to a MMA news source.
I'm sure UFC President Dana White is furious, who hasn't made a comment on the situation yet. However, the UFC did make an official announcement yesterday.
Due to issues related to Wanderlei Silva's licensing in the state of Nevada, the UFC was forced to seek a replacement opponent to face Chael Sonnen at UFC 175 on Saturday, July 5 in Las Vegas. Former UFC champion Vitor Belfort has accepted the fight with Sonnen, subject to Belfort receiving a license to compete from the Nevada Athletic Commission.
Is this the end of the "Axe Murderer's" career in the UFC or what? Thankfully, Vitor Belfort stepped up to the plate and will face Sonnen on July 5, 2014 at Mandalay Bay Events Center in Las Vegas, Nevada.