Not quite hot-on-the-heels of the Abominate the World Tour of 2017, but close enough, is Doyle (yes, that Doyle) heading out for a 2018 run of tour dates. Doyle's As We Die World Abomination Tour kicks off on February 21st, in Clifton, New Jersey.
See all dates below.
After the North American leg comes to an end on March 20th, the band heads across the pond for a string of dates starting on March 26th, which includes a couple of dates in Collusion Russia. The UK and Russian stretch includes Killus and DeadXII.
After Russian, Doyle will perform at the 20th annual New England Metal & Hardcore Fest on April 21st at The Palladium in Worcester, MA.
As We Die World Abomination Tour 2018 US Dates:
02/21 @ Dingbatz – Clifton, NJ
02/22 @ Diesel – Pittsburgh, PA
02/23 @ Buffalo Iron Works
02/24 @ The Lost Horizon – Syracuse, NY
02/25 @ Blackthorn 51 – Elmhurst, NY
02/26 @ Voltage Lounge – Pkiladelphia, PA
02/28 @ Shaka's – Virginia Beach, VA
03/01 @ The Calico Room – Wilmington, NC
03/02 @ Drunk Horse – Fayettevill, NC
03/03 @ High Drive – Gainseville, FL
03/04 @ Side Tracks Music Hall – Huntsville, AL
03/05 @ Firebird – St. Louis, MO
03/06 @ The Shrine – Tulsa, OK
03/07 @ Backstage – Lubbock, TX
03/09 @ The Rock – Tucson, AZ
03/10 @ The Brick By Brick – San Diego, CA
03/11 @ The Whisky A Go Go – West Hollywood, CA
03/12 @ Holy Diver – Sacramento, CA
03/13 @ Hawthorne Theatre Lounge – Portland, OR
03/14 @ El Corazon – Seattle, WA
03/15 @ Diamondz Event Center – Jerome, ID
03/16 @ Mesa Theater – Grand Junction, CO
03/17 @ Herman's Hideaway – Denver, CO
03/18 @ Aftershock – Merriam, KS
03/20 @ Frankies-Inner City – Toledo, OH
As We Die World Abomination Tour 2018 UK/Russia Spring With KILLUS and DeadXlll Dates:
03/26 @ Asylum 2 – Birmingham, ENG
03/27 @ Redrum – Stafford, ENG
03/28 @ Factory – Manchester, ENG
03/30 @ Church – Dundee, ENG
03/31 @ Corporation – Sheffield, ENG
04/04 @ Hobo's – Huddersfield, ENG
04/05 @ The Hub – Plymouth, ENG
04/06 @ Cobblestones – Bridgewater, ENG
04/07 @ The Lounge – London, ENG
04/08 @ Moskva – Moscow, RU
04/09 @ MOD – Saint Petersburg, RU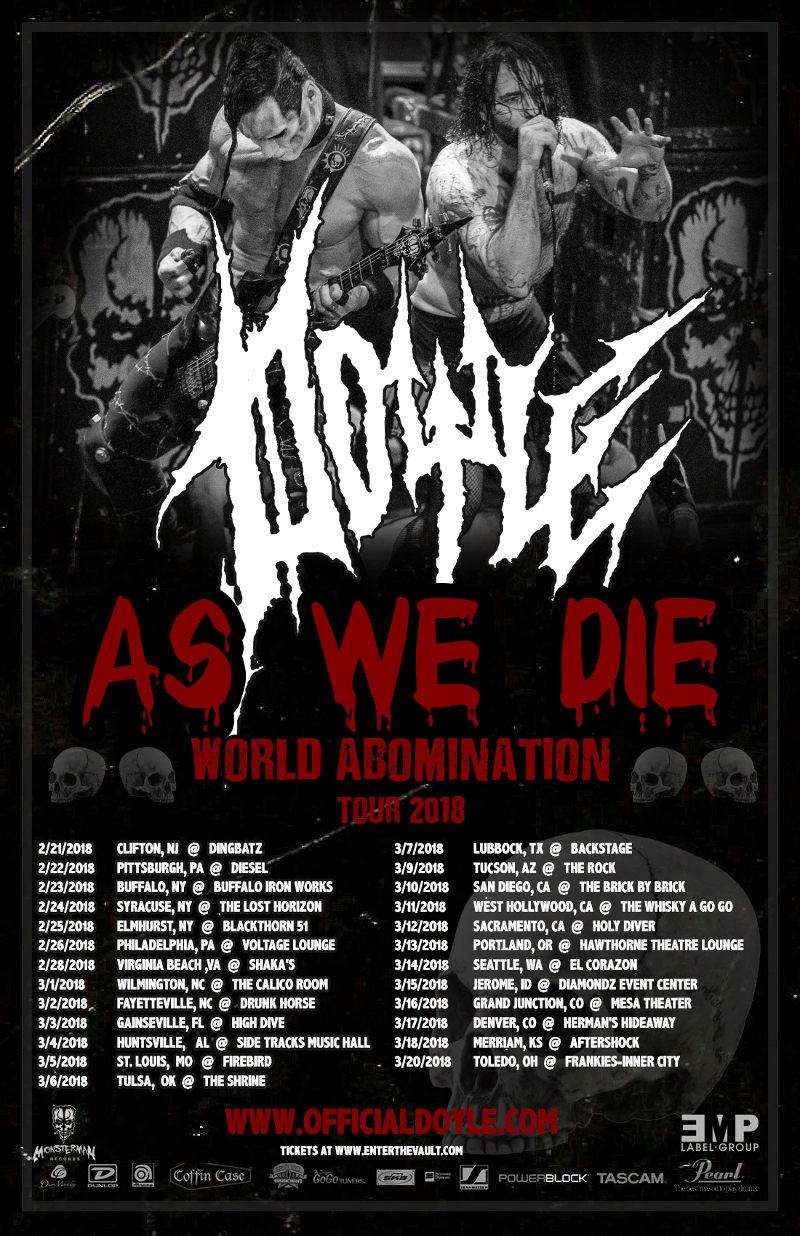 Rock Hard \m/