It's finally here! The bloody horror short, Blood Bath, from writer/producer Pandie Suicide and it's pretty bloody. How bloody is it? Well, imagine what it would be like if that wood-chipper scene in Fargo was combined with the practices of Countess Elizabeth Báthory, then you might have some idea.
Maybe I've been desensitized, but I didn't find Blood Bath to be repulsively gory, but rather on the fun side of horror, although there are some very disturbing concepts in the short.
Blood Bath stars Jeordie White, better known as Twiggy Ramierz (Marilyn Manson, Nine Inch Nails, A Perfect Circle), New Zealand-born Pandie Suicide (David Lynch's "Crazy Clown Time," Massacre), and Kimberly Ables Jindra (Insidious), with an appearance from Slipknot's Sid Wilson (aka, #0, DJ Starscream), and fine artist Shannon Crawford. The film follows a reimagined Elizabeth Bathory as she dips her toe in the modern dating pool.
The film was directed by award-winning director Erik Boccio (Massacre, prolific www.funnyordie.com director under the moniker Weirdfellas) and written and produced by Pandie Suicide (aka, Pandie James), author of the amazon best-selling horror short story Vampire Summer.
Blood Bath was scored by award-winning composer and ex-Korn/Filter/Otep guitarist Rob Patterson, and features an original track by 17-year-old female singer-songwriter Poppy Jean Crawford, produced by Ross Robinson, entitled "My Love." Make-up FX were created by Face-Off alumni Laney Chantal, and the film was shot by cinematographer Evan Pesses. The film was almost entirely crowdfunded and was released today for free for fans to watch on the Deathaus Films' YouTube page (or in our player above).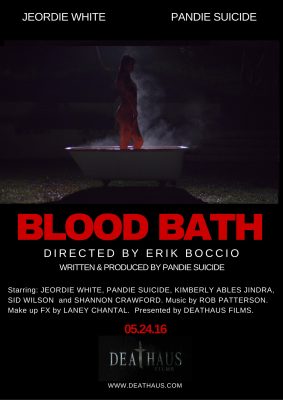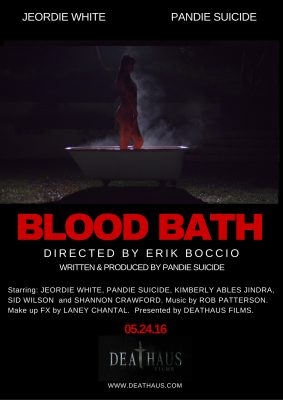 Rock Hard \m/