Here's another kick-ass tour poster to get orgasmic about! And, of course, there's a fair amount of reference to old-school horror. Check it out. Seriously, there is some amazing poster art coming out these days!
Rhode Island-based doom metal trio, Pilgrim, has confirmed three special shows with Castle and Blizaro this August.
Guitarist/vocalist The Wizard comments:
We are very excited and grateful to be asked to join Castle on the east coast portion of their tour. We are also ecstatic to reunite with John Gallow (Blizaro, Orodruin), a great friend and a huge inspiration and influence, and finally see the almighty Blizaro live! Hopefully we'll get some Dungeons & Dragons in on the journey to Philadelphia!
Pilgrim Live Dates:
w/ Castle, Blizaro
8/04/2016 Ralph's Rock Diner – Worcester, MA
8/05/2016 The Acheron – Brooklyn, NY
8/06/2016 The Fire – Philadelphia, PA
Pilgrim will be playing in support of their latest album, II: Void Worship.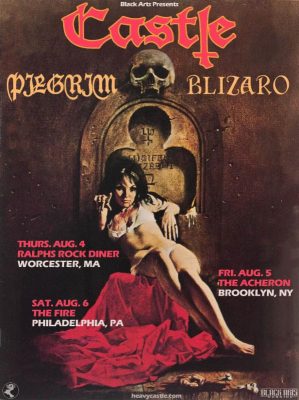 Rock Hard \m/