Italy's atmospheric death metal/doom metal outfit, Novembre, haven't released anything since 2007's The Blue, but they're back with a touch of the old. In fact, the newly released track, "Umana," is eight years old, according to founding member and writer Carmelo Orlando:
'Umana' (Italian for 'humane') is quite an old track, maybe eight years old, but it somehow managed to remain fresh. It's the first step into our new era, where songs got rid of useless frills and soar up above more easily. Also, lyrically, we expanded into new territories, a no man's land where philosophy, sociology, and psychology meet. We let a giant like philosopher Jiddu Krishnamurti speak for us.
Check out the lyric video for "Umana" in the player above.
The track can be found on Novembre's upcoming album, Ursa, due out on April 1, 2016. Pre-order the album here.
Ursa was recorded at Blue Noise Studio and PlayRec studio by Massimiliano Pagliuso, then mixed and mastered at Unisound Studios by Dan Swanö (Opeth, Katatonia, Bloodbath). Cover art comes courtesy of Travis Smith.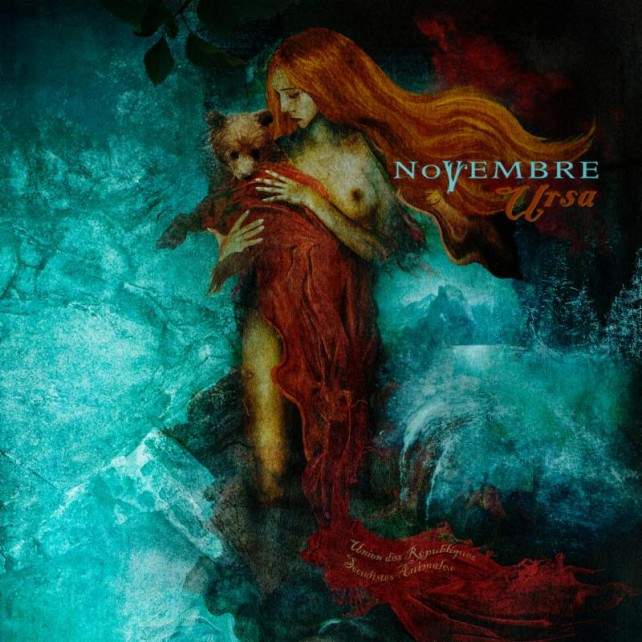 The Current State of Novembre:
After a period of inactivity since 2007's The Blue, which involved the departure of longstanding member Giuseppe Orlando, Novembre returns with a new set of potent and poignant tracks, effortlessly transitioning between soothing, epic, melancholy and intense, from what is one of the originators of the whole atmospheric death/doom scene. Headed by founding member and writer Carmelo Orlando, and with a reinvigorated musical alliance with Massimiliano Pagliuso, the line-up is completed by Fabio Fraschini (previously bassist on the Materia album) and David Folchitto on drums. There is also a special guest appearance from Anders Nyström of the Swedish doom master Katatonia, adding his own unique 'cold' touch to the album's single track "Annoluce."
Added Carmelo Orlando:
This album is a very important step in my life. It got me closer to what some may call 'maturity.' I've been able to delve even deeper into the chasm of the subconscious and unearth gems I didn't think existed. Lyrically and conceptually I explored new shores. I moved my ever-inwards headlights, and for the first time I dared to point them outwards, against the squalor of this Orwellian apocalypse we're committing towards the Earth and its sons, on a daily basis, in quasi-total indifference.
Rock Hard \m/