Artist Twitching Tongues Album World War LiVe Release Date: 2014
Label Closed Casket Activities Genre Heavy Metal | Hardcore | Grunge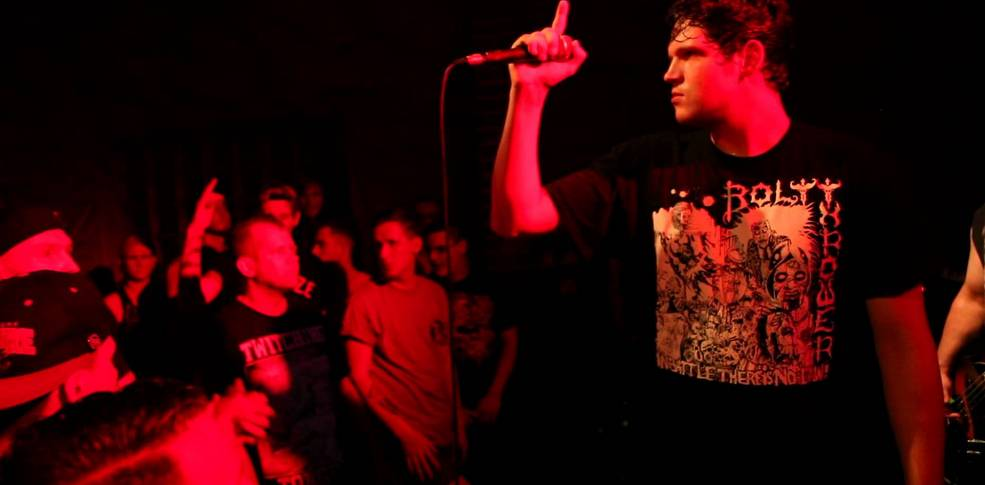 Los Angeles-based heavy metal band, Twitching Tongues, released their third full-length album, Disharmony, in 2015, but before that debut for Metal Blade Records, the band released a live album, World War LiVe. Because it's so incredible, we're going to talk about this 2014 work for the label Closed Casket Activities.
Order World War LiVe here.
To be perfectly honest, I had no idea this was a live album. Obviously I could hear the audience on the album (and who could miss Colin Young's banter between songs?), but I'd only taken a cursory look at the album cover (on my tiny phone) and completely missed that the capitalized "V" was actually part of the word "LiVe."
Additionally, the quality of the recording and performance is so good that you have to forgive me for believing that World War LiVe was a studio effort. Now, it could have been greatly enhanced in the studio, we know that gets done, but there are parts of this album that give the impression of what Butt-Head, from Beavis and Butt-Head, would sound like if he had ditched Beavis and somehow found a modicum of success with a band and as a musician.
Despite the clowning around (announcing that he's gotta take a piss, asking if the fans want to hear a certain song and then denying it, telling them to slow down their singing, etc.), Twitching Tongues' lyrics are anything but light. Dealing with infidelity, an adulterous mother, suicide, and other heavy topics, this band has come forth bearing the grunge torch, both in lyrical content and in tone.
And then there are definite punk roots to be heard as well, especially on standout track "Preacher Man," on which Colin sounds an awful lot like Hüsker Dü's Bob Mould in parts. But then there's the death growls and the sludgy riffs scattered throughout the album. Yes, Twitching Tongues is a huge mess of genres, but they blend them all to perfection. Even hitting the thrash metal genre with a nice touch on "Feed Your Disease," which features a nice homage to "Raining Blood" in its intro.
The Verdict:
Expect to be surprised on each listen. World War LiVe gets better with each spin.