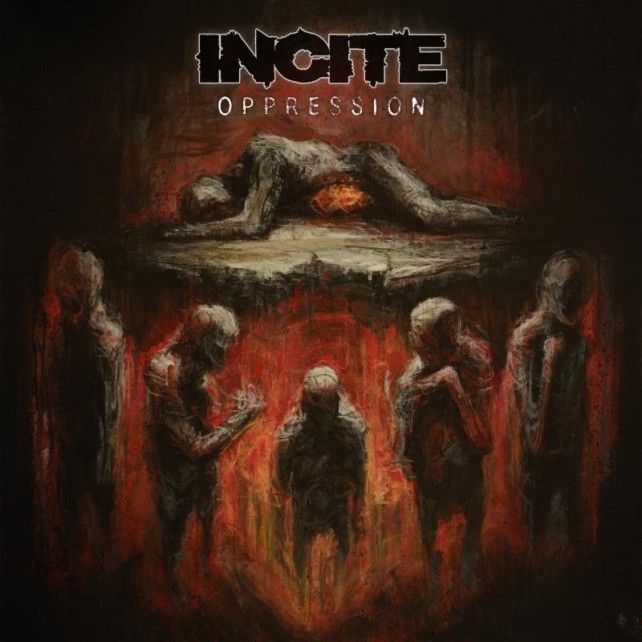 Oh, man! You gotta hear this one from Incite (which features Richie Cavalera, son of heavy metal legend Max). Take a listen to the aggressive first single, "Stagnant," cut from the band's forthcoming album, Oppression, on the band's official Soundcloud.
On April 22, 2016, Incite will release Oppression, via Minus Head Records. Produced by Steve Evetts (Dillinger Escape Plan, Suicide Silence, Every Time I Die) at Omen Room Studios in Garden Grove, California, during the fall of 2015, Oppression promises to deliver a level of ferocity, groove, and darkened melody unlike ever before. The album will feature guest vocals from Connor Garrity of All Hail the Yeti and Jose Mangin of Sirius XM Liquid Metal.
Oppression is available for pre-order now via the Incite Bandcamp page.
Vocalist Richie Cavalera stateD:
This new album is without a doubt the one we're most proud of – to date. It's the most organic and aggressive album in the bands career. Working with Steve Evetts was a life changing experience for all of us. We learned and tried things that we never would have before, and were really able to harness the raw live energy that you get from our shows. We added a lot of new guitar work – more complicated solos, effects, and not to mention the vocal sound and structure is on a whole new level. Oppression is the rebirth of good old classic American Metal.
Incite is about to embark on a 37-date European tour with Soulfly and King Parrot. The first 17 dates of the tour will feature Lody Kong as special guest opener.
Incite European Tour Dates:
w/ Soulfly and King Parrot
1/29 – Nottingham, UK @ The Rescue Room
1/30 – London, UK @ O2 Islington
1/31 – Brighton, UK @ Concorde 2
2/2 – Dublin, Ireland @ The Academy
2/3 – Belfast, Ireland @ The Limelight
2/4 – Glasgow, Scotland @ King Tuts
2/5 – Manchester, UK @ Academy 3
2/6 – Norwich, UK @ The Waterfront
2/8 – Bristol, UK @ Motion & The Marble
2/10 – Paris, France @ Point Empemere
2/11 – Toulouse, France @ Connexion live
2/12 – Victoria, Spain @ Jimmy Jazz
2/13 – Valencia, Spain @ Rock City
2/14 – Zaragoza, Spain @ Centro cultural
2/16 – Schaffhausen, Switzerland @ Kammgarn
2/17 – Lucerne, Switzerland @ Schuur
2/18 – Lindau, Germany @ Club Vaudeville
2/19 – Milan, Italy @ Fabrique
2/20 – Pordenone, Italy @ Il Deposito
2/21 – Vienna, Austria @ Szene Wein
2/22 – Salzburg, Austria @ Rockhouse
2/23 – Wurzburg, Germany @ Posthalle
2/24 – Dresden, Germany @ Scheune
2/25 – Prague, Czech Republic @ Roxy Club
2/26 – Katowice, Poland @ Mega Club
2/27 – Wroclaw, Poland @ Alibi
2-28 – Wiesbaden, Germany @ Schlachthof
3/1 – Luxembourg @ Atelier
3/2 – Gent, Belgium @ Vooruit
3/3 – Nijmegen, Netherlands @ Doornroosje
3/4 – Aarhus, Denmark @ The Train
3/6 – Oslo, Norway @ John Dee
3/7 – Stockholm, Sweden @ Debaser strand
3/9 – Helsinki, Finland @ Nosturi
3/10 – Joensuu, Finland @ Kerubi
3/11 – St. Petersburg, Russia @ Glavclub
3/12 – Moscow, Russia @ Yotaspace
Rock Hard \m/