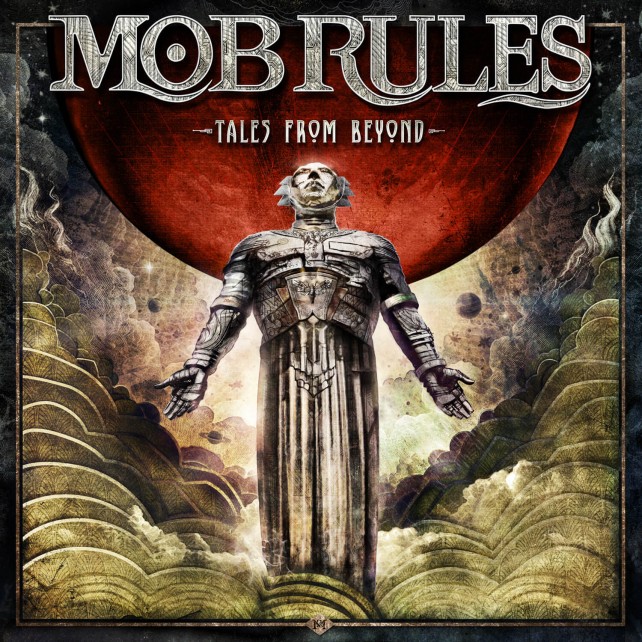 German heavy metal giants, Mob Rules, are preparing to release their eighth studio album, Tales From Beyond, on March 18, 2016, and from the sounds of it, this will be an incredible album. After spending 10 months in the studio, Mob Rules promises a "deeply melodic mix of progressive and power metal." And when it comes to their lyrics, the band "continues to go their own unmistakable path, influenced by historic events and inspired by literature."
Tales From Beyond comes to us courtesy of Steamhammer/SPV as Digipak (includes one bonus track + poster), double colored vinyl LP, and digital download. In addition, there will be an extra iTunes version including an additional exclusive bonus track called "Ghost Town," which has also been newly recorded.
April 2016 will see Mob Rules join Axel Rudi Pell as special guests on his extensive tour, presenting the songs from Tales From Beyond live for the first time.
Tales From Beyond Track Listing:
1.Dykemaster's Tale 8:50
2. Somerled 5:56
3. Signs 5:21
4. On The Edge 6:00
5. My Kingdom Come 5:11
6. The Healer 4:29
7. Dust Of Vengeance 4:54
8. A Tale From Beyond (Part 1: Through The Eye Of The Storm) 5:48
9. A Tale From Beyond (Part 2: A Mirror Inside) 4:55
10. A Tale From Beyond (Part 3: Science Save Me!) 5:08
11. Bonus track DigiPak: Outer Space 3:29
Mob Rules Live 2016:
Exclusive Release Show
19.03. D-Oldenburg – Cadillac
On tour with AXEL RUDI PELL
01.04.16 D-Hamburg – Grosse Freiheit 36
02.04.16 D-Karlsruhe – Substage
03.04.16 D-Nürnberg – Hirsch
05.04.16 D-Munich – Backstage
06.04.16 D-Berlin – Huxleys
08.04.16 D-Osnabrück – Hyde Park
09.04.16 B-Vosselaar – Biebob
10.04.16 NL-Zwolle – Hedon
12.04.16 D-Cologne – Live Music Hall
13.04.16 D-Aschaffenburg – Colos-Saal
15.04.16 D-Erfurt – Stadtgarten
16.04.16 CH-Pratteln – Z7
17.04.16 CH-Pratteln – Z7
Rock Hard \m/