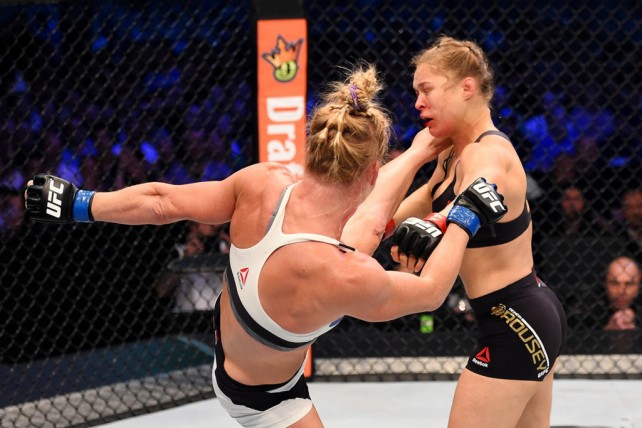 After dethroning former UFC bantamweight champion Ronda Rousey at UFC 193 in November, Holly Holm quickly became the new face of women's MMA, which took her only a year to achieve in the UFC. Besides all the amazing new perks of being a UFC champion, Holm will also be enjoying her lucrative new UFC contract this year.
According to today's edition of the MMA Hour with Ariel Helwani, Holm revealed that she just inked a fresh contract and that she's ready to fight sooner than later. Meaning Holm doesn't want to wait until the summer or later for a rematch with Rousey.
Holm said,
If I fight sooner rather than later, it won't be a rematch. But there's still a possibility for a rematch. …We'll wait and see how it unfolds.
Apparently, the UFC will be officially announcing her first title defense shortly.
Holm added,
I just don't want to wait around for things if they're not set in stone. A lot of people have been talking about the rematch, but nobody really knows for sure. I haven't really heard if she really wants it yet or not or if she's occupied with some other things right now. I think that's the hardest part for me. … I don't want to wait around for something that may not happen. I want to be able to fight soon. I like being active, because I love the sport.
There's good speculation that Holm could face Miesha Tate early in 2016. And Holm insists the announcement will be "soon."
I'll let them announce it, I'm pretty sure it will be soon.
Stay tuned to Yell! Magazine for the update.