Here's some love for my Wisconsin brothers, Product of Hate.
The band's name is a crushing response to the world in which we live. The five-piece honed their sound by sharing the stage with Lamb Of God, Meshuggah, GWAR, and Testament to name a few. The band is pumped and is now ready to introduce the world to their debut album, Buried in Violence, which was mixed and mastered by the legendary James Murphy, known for his work with Death, Testament, and Obituary.
Product of Hate recently debuted their video for the thrash-heavy song "Blood Coated Concrete," from their new album. Directed by James Zahn with Gary Jones serving as assistant director, the video was produced by Robert Kurtzman. I don't really get the dancers in the cages, but whatever.
Vocalist Adam Gilley on "Blood Coated Concrete":
'Blood Coated Concrete' is an interesting song to have included on Buried In Violence since it's one of our oldest songs from a live perspective, but a fan-favorite and longtime set-closer. It was also our first music video, though most people will be experiencing it now for the very first time, complete with James Murphy's new audio mix. One of the visual pieces that we worked on with Robert Kurtzman and his Creature Corps, we had a blast shooting this – a video that adds to the brutality and in-your-face nature of the song. We've grown as a band since 'Blood Coated Concrete' was first written, but listeners can be assured that we've maintained the aggressiveness, and will bring it to new heights when Buried in Violence arrives this February!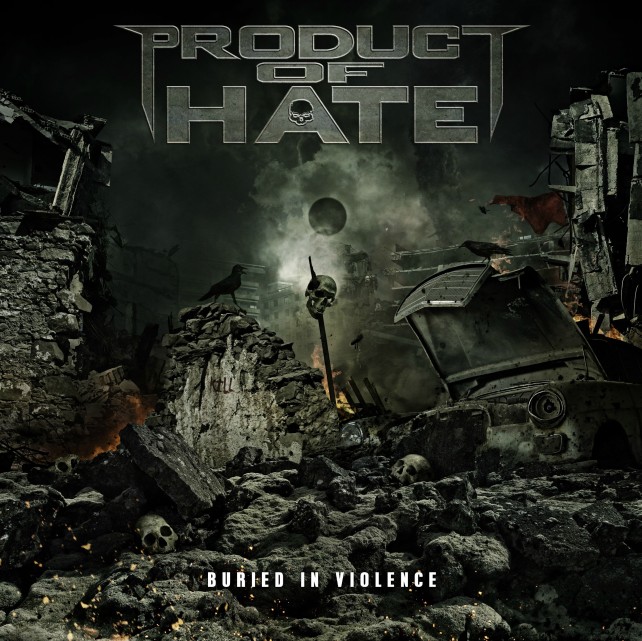 Product of Hate will release Buried in Violence February 5, 2016, via Napalm Records. Digital pre-orders of the album come with instant downloads of the songs "Blood Coated Concrete" and "…As Your Kingdom Falls." Pre-order the album on iTunes.
Buried in Violence Track Listing:
1. Kill. You. Now.
2. Annihilation
3. …As Your Kingdom Falls
4. Blood Coated Concrete
5. Monster
6. Buried in Violence
7. Vindicare
8. Nemesis
9. Revolution of Destruction
10. Unholy Manipulator
11. Perry Mason
Product of Hate Is:
Adam Gilley- Vocals
Cody Rathbone- Guitar
Gene Rathbone- Lead Guitar
Mark Campbell- Bass
Mike McGuire- Drums
Rock Hard \m/