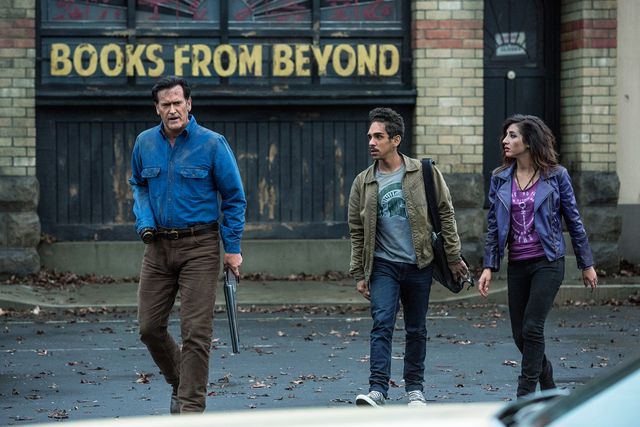 And we're back with another bad-ass episode of Ash vs Evil Dead, folks! This one was a little more mild than what we've seen since the premiere, and right off the bat we got a recap of what has happened till now.
Cut to the current events, and we see a sexy red Hemi Dodge Challenger roaring down the country roads. When it comes to a stop, we see someone get out, but we're only teased with what appears to be women's boots. This is the debut of Lucy Lawless' character in the series. Seems that she's been chasing Ash for some time because she unearths the late father of Kelly from the last episode, and she ends up interrogating and torturing the demonic dad. She pulls out a mysterious blade and appears to cut the face of the deadite dad and his face melts. I don't know what the purpose of this was, but I'm sure we'll find out soon.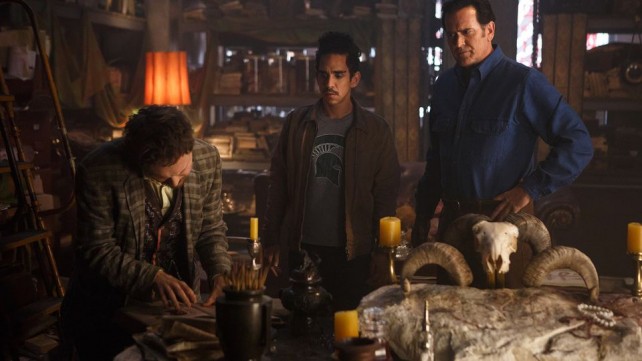 A little change of scene, and we're with Ash and the crew at the Books from Beyond bookstore. Ash wants to find out how he can reverse the summoned forces of evil, and they come up with the idea of summoning another demon in order to find out how. Things just keep getting worse for Ash as he's told not to break the circle in which the demon is being held. This was only caused by Amanda, who is investigating the recent murders. She's being held captive by Kelly while Ash and Pablo summon the demon with the help of the bookstore owner, Lionel.
So, of course, as mentioned earlier, Ash breaks the sandy circle holding the summoned demon. Questioning the demon proved to be a waste of time. After fighting off the demon to no avail, losing Lionel to a rather glassy incident, Kelly smacks the demon in the head with the Necronomicon and banishes the demon.
So, a rather interesting episode from what I gathered. We learned about the history of the book, or rather reminded again since it was mentioned briefly in the Evil Dead movies.
What's to take from this episode? What will become of Ruby played by Lucy Lawless and her mysterious dagger?
We'll have to wait to see this Saturday on Starz @ 9 p.m. E/CT.