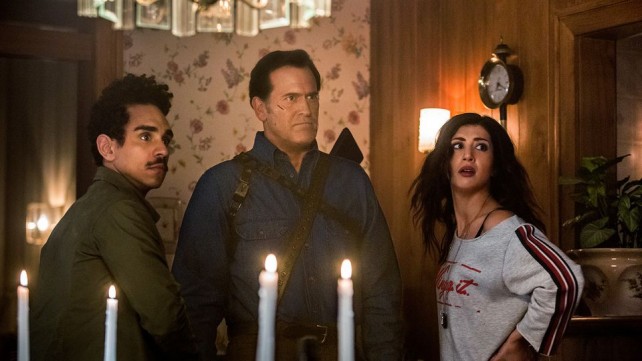 Once again, Ash vs Evil Dead brought the boomstick, and this time more blood and guts as well. Within the first few minutes, we were treated to a fight with a "deadite" in Ash's legendary 1973 Oldsmobile Delta 88. If you remember in last week's "El Jefe" episode, as Ash was leaving work, his boss was caught by "The Force" and turned into a deadite. Well, it made for quite the entertaining gore scene in Ash's car as he tried to keep his deadite boss from eating him. After struggling for a minute, he shoved the deadite out of the driver's side window for his head to ultimately be smashed on a passing windshield, which brought in the CGI blood and the Ash vs Evil Dead title screen. Awesome intro!
Now, let's get to the plot of this episode, shall we?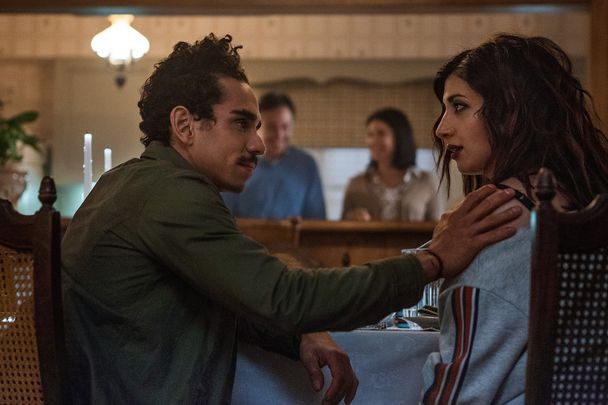 And let's talk about Kelly and Pablo who were begging Ash to go with Kelly to help her father. If you were able to view "El Jefe" last week, you may remember the facetime chat that Kelly had with her father, who is terrified because apparently her dead mother walked through the front door. As Ash was harnessing his trailer to his Oldsmobile, he saw Kelly driving off on Pablo's motorcycle with Pablo chasing after her. He tells Ash that she took the Necronomicon, the book of the dead. Ash didn't want to help, but now he's been forced to lend a hand if he wants to get his book back. This is what leads to the intro scene as explained above.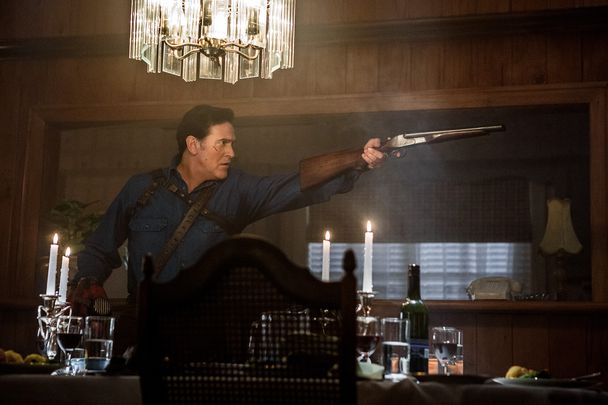 Upon arriving at Kelly's house, we could see that both of her parents were fine. However, Ash still believes that something is wrong. He questioned whether or not Kelly's mother was a deadite, and everyone thought he was wrong to believe so. If you remember from the classic Evil Dead films, Ash can be a complete dick at times. Well, this episode was one of those times. Ash was a complete asshole to Kelly's mother, questioning her constantly until he finally just punches her in the face.
This moment ultimately causes her to turn to her deadite form and ends up shoving a fork through her husband's face and killing him. A nice fight breaks out between Ash with his chainsaw hand and his boomstick, and this ugly ass deadite. After all is said and done, the battle is won… for now. The characters bury the dead, and some discussions take place on what to do next. I will leave you with the funniest line of the episode though. In regard to the graves they dug, Kelly says to Ash, "You know they were Jewish, right?" Ash replies, "I… I did not. Wish you could've said something before I made those dumb crosses, but… OK!"
So what do you think will come of next week? A teaser for next week's episode was shown and it will bring the debut of Lucy Lawless as Ruby. As you all know, Lucy Lawless was famous for her role as Zena in Zena: Warrior Princess during the late '90s. Well… Groovy!