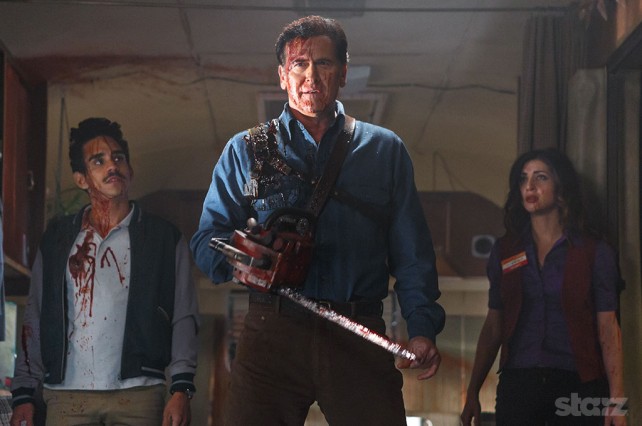 Well, it's finally happened! Ash vs Evil Dead finally hit the air on Starz this past Saturday. This bad-ass horror series has been advertised regularly for the past year at least. and we couldn't have been teased any more with still shots from the series, as well as kick-ass trailers to get us in the mood. With all the hype, it's a good thing that series opener, "El Jefe," brought the "boom stick!"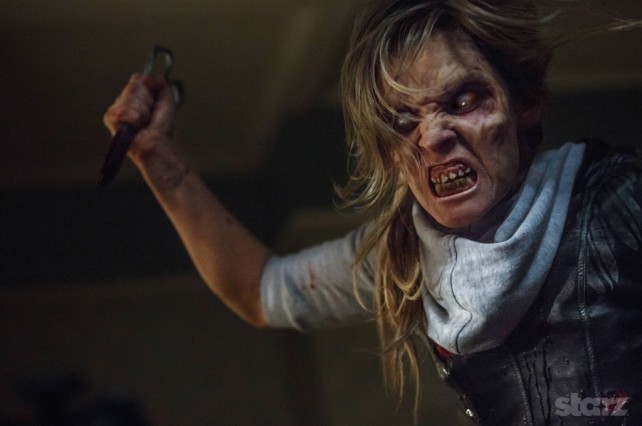 The premiere didn't take long to get you right into the groove of things, and within the first five minutes, we got a quick glimpse of the "deadites." This was a nickname that Bruce Campbell's character, Ash Williams, comes up with in the classic Evil Dead films. Ash vs Evil Dead was quick to remind you of the humor behind the classics, giving us some quick laughs in the intro as well as the sex scene in the bar bathroom.
A little back story for the series: Ash is working at an electronics store, not S-Mart, which is a disappointment, of course. Hopefully you get my drift on that one. It's been 30 years in his character's lifetime since the films and he accidentally summons the deadites… again. Starring alongside Bruce is Ray Santiago from Meet the Fockers and Accepted, and the hot Dana DeLorenzo from A Very Harold and Kumar 3D Christmas. As always, Bruce is a sexual and very straightforward kind of guy with Kelly (Dana), even though Ray (Pablo) has a crush on her.
Bruce is trying to avoid the deadites and realizes he needs to skip town before they come for him. After all, he knows it's his fault. It doesn't take long before Pablo and Kelly have to come to him for help and from there on it's nonstop bad-ass fighting, with the legendary boom stick and, of course, the classic chainsaw hand. What? You haven't seen a man with a chainsaw for a hand before? Though this was a 40-minute episode, it was quick to get you into the action. It was short and sweet, with slapstick humor and a quick background behind the recent occurrences. This folks, is going to be a series for the ages.
Stay tuned next Saturday for episode two of Ash vs Evil Dead on Starz @ 9 p.m. ET/CT. Groovy!.