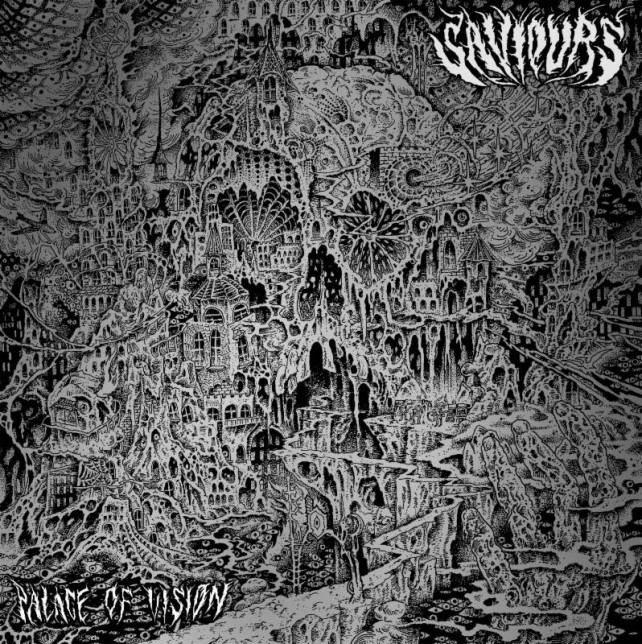 With a weird brand of upbeat doom metal, which also means that there's a fair amount of thrash metal, West Coast slingers, Saviours, will unleash their new album, Palace of Vision, tomorrow, October 30th.
As the press release states, Palace of Vision is dark yet simultaneously driving and anthemesque, the band's first proper full-length in four years was captured at Type Foundry in Portland, Oregon, with Billy Anderson (Brothers Of The Sonic Cloth, Eyehategod, Taurus, Ommadon, etc.) and delivers nine tumultuous tracks of herculean riffs, quaking rhythms and galloping guitar harmonies twined around a fixation on the apocalypse, the occult, psychedelics, and the arcane.
If that sounds appealing, and it should, head on over to Metal Sucks to stream the album in full.
Following the release of Palace of Vision, Saviours will kick off a North American tour this fall supporting Corrosion of Conformity and Brant Bjork and The Low Desert Punk Band. The trek will commence on November 16th, and run through December 10th, with additional support provided by Mothership. From there the band will level 10 more stages from December 11th to December 20th to close out the year.
Saviours Tour Dates:
w/ Corrosion Of Conformity, Brant Bjork and the Low Desert Punk Band, Mothership
11/16/2015 Pub Rock – Scottsdale, AZ
11/17/2015 Teragram Ballroom – Los Angeles, CA
11/18/2015 Slim's – San Francisco, CA
11/19/2015 High Water Marl – Portland, OR * SAVIOURS only
11/20/2015 Venue Nightclub – Vancouver, BC
11/21/2015 Neumo's – Seattle, WA
11/23/2015 The Summit Music Hall – Denver, CO
11/24/2015 The Riot Room – Kansas City, MO
11/25/2015 Mill City Nights – Minneapolis, MN
11/27/2015 Rtr 20 – Racine, WI
11/28/2015 The Odeon – Cleveland, OH
11/29/2015 Underground Arts – Philadelphia, PA
11/30/2015 Firehouse Saloon – Rochester, NY * SAVIOURS only
12/01/2015 Opera House – Toronto, ON
12/02/2015 Machine Shop – Flint, MI
12/03/2015 Altar Bar – Pittsburgh, PA
12/04/2015 Gramercy Theater – New York, NY
12/05/2015 Brighton Music Hall – Allston, MA
12/07/2015 9:30 Club – Washington, DC
12/08/2015 Orange Peel – Asheville, NC
12/09/2015 Shaka's Live – Virginia Beach, VA
12/10/2015 Lincoln Theatre – Raleigh, NC
SAVIOURS Headlining Dates:
12/11/2015 The 529 – Atlanta, GA
12/12/2015 The Nick – Birmingham, AL
12/13/2015 Siberia – New Orleans, OR
12/14/2015 Boondocks – Houston, TX
12/15/2015 611 E. 7th – Austin, TX
12/16/2015 Three Links – Dallas, TX
12/18/2015 Launchpad – Albuquerque, NM
12/19/2015 Flycatcher – Tucson, AZ
12/20/2015 All Star Lanes – Los Angeles, CA
Rock Hard \m/