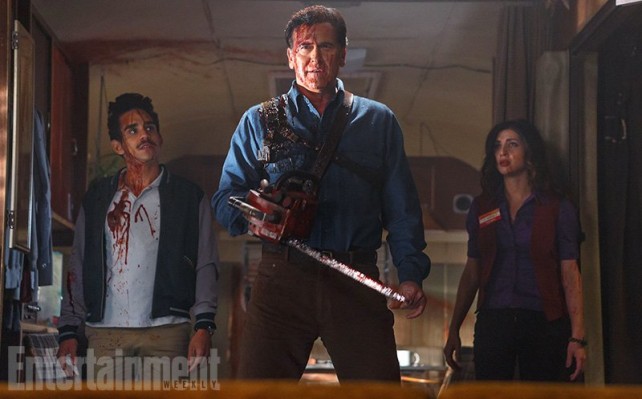 Starz, the digital network behind Ash vs Evil Dead made a groovy announcement today, which will definitely please horror fans around the globe. With a new licensing agreement in place with broadcasters and digital platforms representing more than 100 countries and territories worldwide, the very first episode of Ash vs Evil Dead is going global on October 31, 2015. This officially means over 100 countries will debut the long-awaited follow-up to the classic horror film The Evil Dead.
Here are the selected major worldwide broadcasters and digital providers offering the show on Halloween:
– Amedia (Russia/CIS)
– C More (Scandinavia)
– FOX Action on FOX+ Premium service/FOX Latin America Channels (Latin America/Brazil)
– SKY TV (New Zealand)
– Stan (Australia)
– STARZ PLAY Arabia (Middle East/North Africa)
– Super Channel (Canada)
---
About Ash vs Evil Dead
The cast is led by Bruce Campbell (Evil Dead, "Burn Notice") reprising his role of Ash Williams, the stock boy, aging lothario and chainsaw-handed monster hunter who has spent the last 30 years avoiding responsibility, maturity and the terrors of the Evil Dead. Rounding out the cast are Lucy Lawless ("Salem," "Spartacus") as Ruby a mysterious figure who believes Ash is the cause of the Evil outbreaks, Ray Santiago ("Touch," Meet the Fockers) as Pablo Simon Bolivar, an idealistic immigrant who becomes Ash's loyal sidekick, Dana DeLorenzo (A Very Harold & Kumar 3D Christmas) as Kelly Maxwell, a moody wild child trying to outrun her past and Jill Marie Jones ("Sleepy Hollow") as Amanda Fisher, a disgraced Michigan State Trooper set to find our anti-hero Ash and prove his responsibility in the grisly murder of her partner.