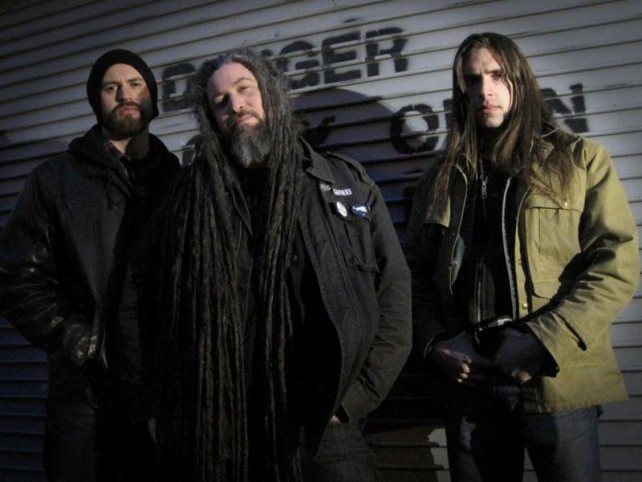 While we all wait in desperate anticipation for Philadelphia's doom metal legion, Wizard Eye, to deliver their new self-titled album on October 10th, let us enjoy the latest offering, the low-end and fuzzed out grooves of "Flying Falling." Go now to Noisey to stream the heavy track. As you learn in the below statements from vocalist/guitarist Erik Caplan, the track just might be a tad more philosophical than you thought.
Caplan talks about the track:
This song took root two or more years ago, and it's a bit uncommon for us because [bassist/vocalist] Dave [Shahriari] and I sing every lyric together. The combined texture of our voices — Dave's being lower and more melodic and mine being higher and raspy — was interesting to us, so we decided to spread that dynamic across the entire song. It was a departure for us when we wrote it, but we plan to explore that area in greater depth in the future. The pulsing nature of the groove is kind of deceptive. While it seems fairly straightforward and simple, we threw a few challenging timing elements into the mix to entertain ourselves. The idea was to keep it from being predictable without disturbing the constant flow and feeling of the overall song. It is to [drummer] Mike [Scarpone]'s credit that he takes what could be fairly disparate sections and glues them together with a dead-solid pocket. The guitar solo and outro solo sections were a definite nod to Tony Iommi with obvious doubled fuzz-wah guitars, but the half-time psychedelic theremin freak-out at the very end ranges more into Hawkwind and Monster Magnet territory. I remember giggling a lot as I double-tracked wildly divergent theremin parts to create a maelstrom of sonic ridiculousness. [Engineer] Steve Poponi said it sounded like giant birds attacking. He's kinda right.
Caplan continues to discuss the song's lyrics:
Lyrically, this one was a collaborative effort. Dave wrote the first verse, including the wise-assed, 'Flying is just like falling/Except for the end,' which is obviously where we got the title. I wrote the chorus and the second verse, and I always felt the disparities between our lyrical approaches really illustrated our personalities well. Dave's verse is analytical, smart and focused, whereas my contributions are more emotional, descriptive and exaggerated. That's essentially the nature of our relationship within the band as well. It works for us.
Rock Hard \m/