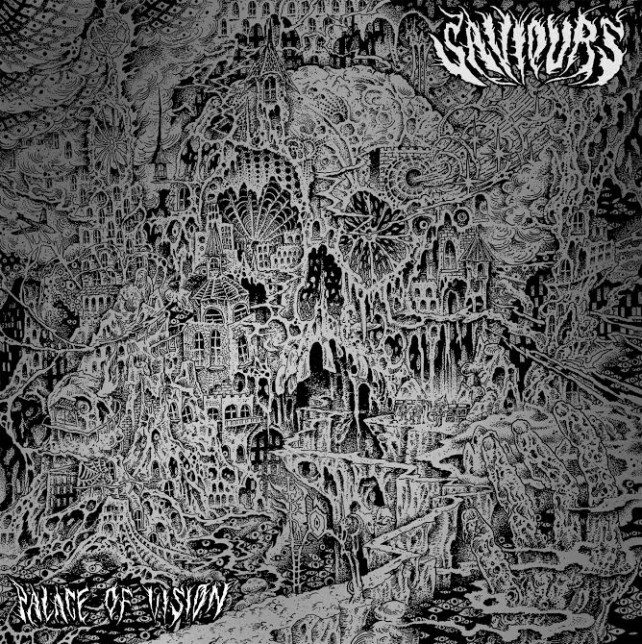 Saviours have just released their newest rager, "Burning Shrine," in anticipation of the California band's upcoming album, Palace of Vision. Although "Burning Shrine" starts off with an occultish, black magic vibe, it quickly jumps into the fire and hits you over the head like a sledgehammer with it's almost Slayer-esque thrashing. Head on over to Cvlt Nation to spoil your ears.
Palace of Vision will be released via Listenable Records on October 30th. A four-year project, the album was recorded at Type Foundry in Portland, Oregon, with Billy Anderson (Neurosis, Brothers Of The Sonic Cloth, Eyehategod, Taurus, Ommadon, etc.) at the helm.
Drummer Scott Batiste commented on the album:
It's a natural and logical continuation of where we left off with [2011's] Death's Procession. There are some doomy crushers and faster ragers.
And about the track, Batiste also said:
'Burning Shrine' is about watching the world burn as it is ruined by religious zealots. Crank it up, live evil or die!
If you're wondering about the wonderfully intricate artwork on the album cover, it was designed by Derrick Snodgrass (Obliterations, Lecherous Gaze).
Palace Of Vision Track Listing:
1. The Mountain
2. Flesh Of Fire
3. Devil's Crown
4. Palace Of Vision
5. Burning Shrine
6. Hell's Floor
7. The Beast Remains
8. Cursed Night
8. The Seeker
In related news, Saviours will bring their riffs to the stage with a pair of East Coast/West Coast fest performances with additional live incursions to be announced in the coming weeks.
Saviours Live Dates:
9/05/2015 Cosmic Sonic Rendezvous Festival @ The Wick – Brooklyn, NY
11/1/3015 Day Of The Shred Festival @ The Observatory – Santa Ana, CA
Rock Hard \m/