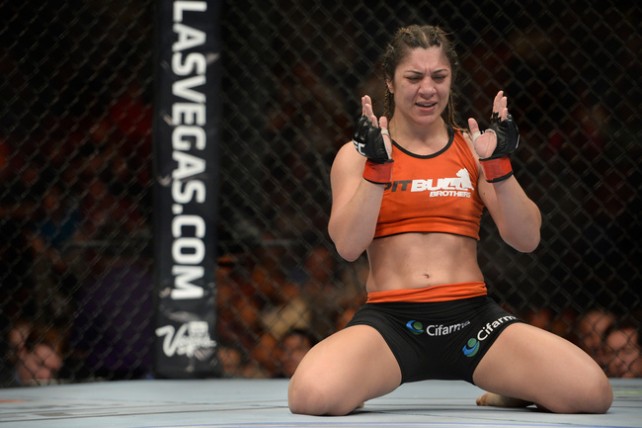 After all the talk and promises from UFC President Dana White, Miesha Tate won't be getting her trilogy fight with Ronda Rousey in January. Instead, Rousey will be defending the title against Holly Holm at UFC 195. It was a surprising change that "absolutely shocked" Tate and her manager Josh Jones of KHI Management, but now a new fight is brewing between her and a recent former title challenger.
As soon as Rousey announced her fight with Holm on Friday, Bethe Correia started throwing jabs at Tate on Twitter, and she explained on Saturday via MMA Fighting why she wants to fight the former STRIKEFORCE champion.
She mocked me when I lost because she thought she would be fighting Ronda, so I wouldn't miss an opportunity to mock her back, She called me rookie, but always wanted to fight me, campaigned on Twitter in the past. Who wants to fight a rookie? It would be terrible to get beat up by a rookie.
Apparently, White also promised Correia that her next fight would be with a top 5 contender in the bantamweight division after her loss against Rousey earlier this month in Rio de Janeiro.
When the fight was over, I asked Dana to fight a top 5 next. He congratulated me for the job I did because we got a good media for the fight, and the good thing is that everything I did, I did from the bottom of my heart. He said he would give me this fight [against a top 5]. Wallid (Ismail) is negotiating my next fight now.
Tate called out Correia in February 2015.
I really want to fight Tate because we have something unfinished for a long time, Correia said. I hate Ronda, and after her the one I dislike the most is Tate. I have unfinished things with her.
What do you guys think? Does this fight make sense? Let us know in the comment section below.