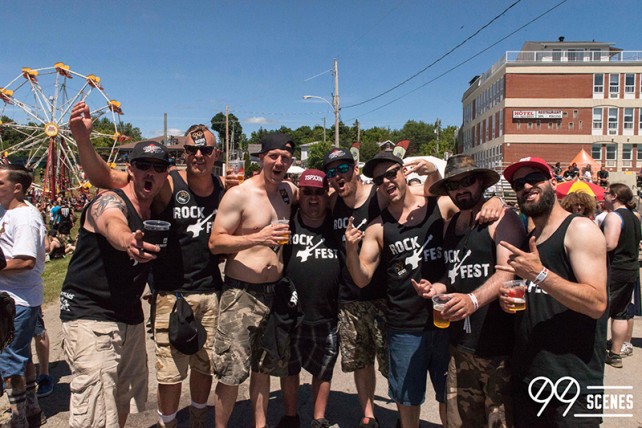 Another year, another kick-ass Amnesia Rockfest! Last year we were promised a stellar 10th anniversary edition, and founder/organizer Alex Martel didn't disappoint. Heck, even the local retailers and vendors stepped up their game with an eye toward logistics and ease of services.
For starters, we were blessed with amazing weather. With practically no humidity, no rain, sunny skies, and temps that sat comfortably around 77F (25C), we might have had the best weather the fest has ever seen… or at least that we've experienced in Montebello, Quebec. However, mild temperatures didn't stop fans from dehydration, as that and excess libation were the two most common injuries according to one of the onsite medics. But to Rockfest's credit, for the first time in my recollection, there was at least one watering station where fest-goers could have their water bottles refilled with some good, clean water. As well, there were more medics on site than I can remember there being in past years.
Despite the obvious increased safety measures, there was at least one incident on Saturday, around 3:30 p.m. that sent two people to hospital after falling out of a Ferris wheel carriage from a height of between 6 and 10 meters. Witnesses say that they saw the couple rocking their carriage back and forth before falling out of it. The injured couple fortunately didn't sustain life-threatening injuries, and onsite medics responded speedily. The ride was shut down for the remainder of the festival, but the show went on… and boy was it killer.
Amnesia Rockfest included great performances all around, but main attractions on Day 1 included Mad Caddies, The Ataris, The Dillinger Escape Plan, Carcass, Down, Michale Graves, Bad Religion, Walls of Jericho, Deftones, The Exploited, Parkway Drive, Sublime, Skinny Puppy, Sick of it All, The Offspring, Ministry, Linkin Park, and, last but not least, the Descendents. Overall, there was a strong retro '90s vibe happening everywhere, even with the day's comedy act, Steve-O, despite his being an attraction from the '00s. Day 2 attractions sprung forth with a bit more heavy metal, which seems to be Rockfest's MO — punk heavy one day, metal heavy the other. So, the second day's main attractions included Less Than Jake, Fear Factory, The Real McKenzies, Hatebreed, Melvins, GBH, Rancid, Good Riddance, Snoop Dogg, Rob Zombie, Tenacious D, All, Slayer, Pixies, and System of a Down.
Individual show reviews are to come, but not all of them, obviously; so many bands, so little time.
It was clear that organizers really paid attention to complaints and/or criticisms from previous years as they were corrected (for the most part). This means that there were plenty of porta potties, which reduced wait time and the number of people urinating beside fences. As well, those porta potties were being drained on a regular and frequent basis, so obviously they filled up, but they didn't overflow as some reviews had claimed in years prior. So, win for Rockfest organizers this year. There also seemed to be a few more access points to the fest grounds this year, which made it easier to get in and out during the day. As usual, there were plenty of beer stands and food stands, and I believe that the food gets better and better every year, but pulled pork and poutine are tops in my opinion. However, if you wanted a wider variety and slightly lower prices, you had to leave the fest grounds, which is fine because life on the street during Amnesia Rockfest is something to see, from porn trailers to artisans, it's all here.
The thing that still bothers me is that there is sometimes an overlap of bands on the two main stages, Loto Quebec and Jagermeister, which, if you're standing in the wrong spot, leads to hearing both stages, and that's just annoying.
Camping and parking also appeared to be organized much better. Every time we stepped out onto the main street there seemed to be a shuttle bus going to or from a camp location, so we can only assume that campers were satisfied with that aspect too.
Par for the course, because it's what happens at these things, there were some people who had too much "fun." Perhaps we'll have to write another survival guide.
So, that's it for the general recap of the two main days at Amnesia Rockfest 2015. All in all, it was a resounding success! Check back as we post our interviews, pics, and show reviews.
Rock Hard \m/