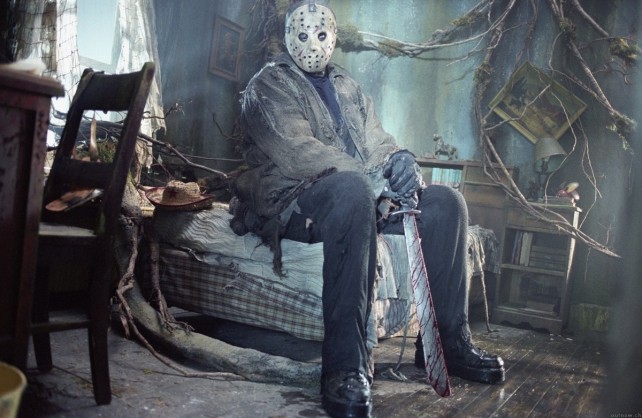 Any news about the upcoming Friday the 13th movie has been pretty sketchy for over the last five years. It seems like the project just doesn't want to lift off the ground. We still have no idea if it's going to be a remake or another sequel in the slasher franchise. Will it be shot in 3-D? Will the movie employ the found-footage technique? Nothing is set in stone. However, a new writer appears to be on board, so we are hoping details will be clearer moving forward.
According to The Hollywood Reporter, Nick Antosca (Hannibal Season 3, Believe) will be rewriting a script for the new Friday the 13th movie for Paramount and Platinum Dunes, which was originally penned by Richard Naing and Ian Goldberg.
In addition, producer Brad Fuller (Ouija, The Purge) revealed last month new bits of information about the movie in an interview with Esquire. Fuller expressed interest in Jason's supposed immortality, which is an idea that hasn't been exploited in previous Friday the 13th movies:
There's always been this supernatural aspect to these movies. It defies logic that, you see Jason get killed in every movie, including ours, the 2009 one. And then he comes back and no one's ever really investigated what that is. So that's something that I think about a little bit. Like it is supernatural, but what is he? Those are the things that we're toying with. Nothing has been decided. But those type of things: How does he always come back?
Lastly, the new Friday the 13th movie is still planned for a May 13, 2016, release.