Ashmedi, mainman for the pioneers of Sumerian thrashing black metal, Melechesh, sat down recently to talk about the production process, the lyrical concept, and the cover artwork of the band's new album, Enki. Check him out in the confession-style video in the player above.
Then watch Ashmedi talk about working with heavy metal legend Max Cavalera (Soulfly, Killer Be Killed, Sepultura, Cavalera Conspiracy) on Melechesh's latest single, "Lost Tribes."
And finally, check out the thrasher that's brought us all together, "Lost Tribes":
Enki is the follow-up to 2010's masterpiece, The Epigenesis, and is the band's sixth full-length album. Other guest performances include Sakis Tolis (Rotting Christ) and Rob Caggiano (Volbeat, ex-Anthrax).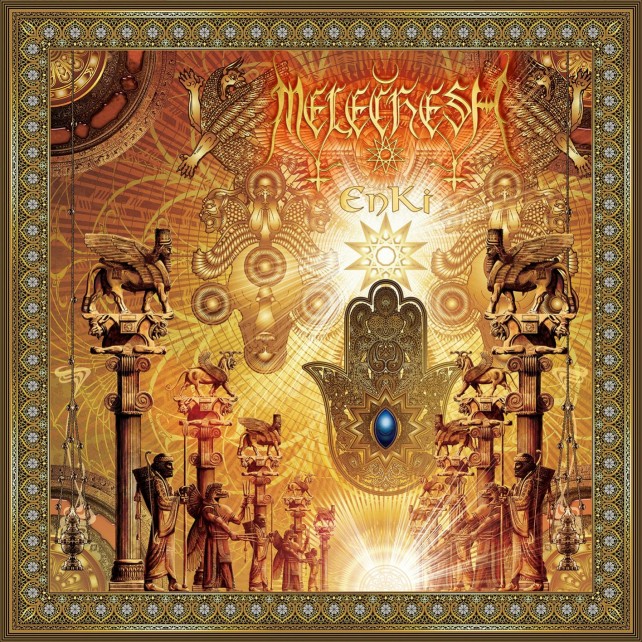 Ashmedi commented on the guests:
I am flattered and honored to have esteemed guests appear on this multifaceted album, Enki, solicited different approaches and new experiences. Max is a lion — I love his voice and the tribal and historic parallels of our lives are uncanny, he did an amazing job on 'Lost Tribes.' Sakis is an old friend and we toured together in the past. His voice added another dimension of mysticism on our 'Enki – Divine Nature Awoken'. Rob and I always wanted to collaborate and he is an agile and excellent guitar player so the lead he did on 'The Palm, the Eye and Lapis Lazuli' was perfect, it rocks and serves the track well. They all did an outstanding job and went above and beyond to make it happen despite their busy schedules. Melechesh is more than a band — it is a society!
Added Caggiano
I've been a fan of Melechesh for a while now and it was an honor for me to play a solo on their new album!! These guys sound like nothing else out there!
Sepultura founder, Max Cavalera, explains:
I was very honored that Melechesh asked me to sing on their new album! I'm a big fan and I think The Epigenesis is one of the greatest extreme metal records ever done! I love the fact that they come from a different part of the world like me. So our worlds finally collide! Long live Melechesh!
Rotting Christ frontman Sakis Tolis talks about the unique collaboration:
When I was told that our brother band Melechesh would record their upcoming album in my hometown, I immediately picked up the phone and called Ashmedi to participate somehow. Ashmedi responded positively so I was ready to raise some serious hell… It is very interesting since we are sharing the same Mediteranean mentality as individuals. I believe this new album is one of the most unique and atmospheric metal albums I have heard the last years. Ashmedi took me to their majestic oriental path and showed me the way to the new Babylon. I am definitely proud working with the Kings of Fire and I really recommend to check the new Melechesh album — it is really good!
Enki was recorded in Greece by Giorgos Bokos (Rotting Christ) while Jonas Kjellgren (Immortal, Legion of the Damned, Overkill, Hypocrisy) took care of the mixing and mastering in his renowned Black Lounge Studios in Sweden. Drums were recorded at Devasoundz Studio with Fotis Benardo (ex-Septicflesh, ex-Nightrage)
Enki is scheduled for release March 10th, in North America.
Rock Hard \m/