Enter to win a massive prize package from Razer, Ibanez, DragonForce, and Metal Blade now on RevolverMag.com!
Dragonforce has announced the worldwide release of their debut DVD, In the Line of Fire. The release is scheduled for July 14th, and features high-definition footage shot during the band's Ultimate Stage headline show at 2014's Loud Park Festival in the Saitama Super Arena, Tokyo. The band used multiple camera angles to capture the raw energy of their show and instrumental dexterity for which they are rightly celebrated worldwide. The release will be a double disc package of the DVD and accompanying Live Audio CD of the show and will also be available in Blu-Ray.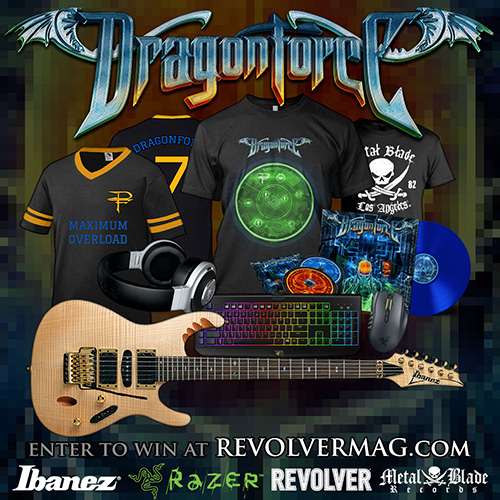 In other news, a new contest has been launched on RevolverMag.com. The contest features prizes including a signed, stage-played Ibanez guitar from Herman Li, a signed drum head, T-shirts, and a most epic selection of gaming/PC gear from Razer! Razer Kraken Forged Edition headphones, Razer keyboards, and more are all being given away. Enter now and watch the video for "Three Hammers" in the player above!
The track listing below features a selection of new songs from Dragonforce's latest album, Maximum Overload, mixed in with foot-stomping anthems and lightning-fast shred-fests from previous releases.
In the Line of Fire track listing:
Fury of the Storm
Three Hammers
Black Winter Night
Tomorrow's Kings
Seasons
Symphony of the Night
Cry Thunder
Ring of Fire
Through the Fire and the Flames
Valley of the Damned
See DragonForce Live in Puerto Rico on the Maximum Overload World Tour:
March: Saturday 15th: San Juan, Shannan's
Dragonforce Maximum Overload World Tour:
w/ Kamelot
04/27 Baltimore, MD Soundstage
04/28 Philadelphia, PA The Trocadero
04/29 New York, NY Webster Hall
05/01 Worcester, MA The Palladium
05/02 Montreal, QC Metropolis
05/03 Toronto, ON Phoenix Concert Theater
05/05 Columbus, OH Newport Music Hall
05/06 Joliet, IL Mojoes
05/07 Minneapolis, MN Mill City Nights
05/09 Winnipeg, MB Garrick Centre
05/10 Saskatoon, SK Louis Pub
05/11 Calgary, AB MacEwan Hall Ballroom
05/12 Edmonton, AB Union Hall
05/14 San Francisco, CA The Grand Ballroom at the Regency
05/15 Anaheim, CA The Grove
05/16 Tempe, AZ Marquee Theater
05/18 Denver, CO Ogden Theater
05/20 Austin, TX Emos
05/21 Birmingham, AL Iron City Live
05/22 New Orleans, LA New Orleans Civic Theatre
05/23 Lake Buena Vista, FL House of Blues (Orlando)
Rock Hard \m/