The Gory Graduation slasher film project from Joseph Henson and Nathan Johnson (The Night Before Easter) comes with its own preexisting mystery, and perhaps a chunk of cult status. According to the filmmakers' indiegogo page, Gory Graduation existed as a highly coveted movie with references to it on IMDb and in newsgroups such as alt.horror since the early days of their respective existence. And while horror hounds tried to sniff it out, especially given its prodigious cast, it was all for naught. The movie didn't exist, being nothing more than a fake title. Until now…
"Now, many, many lifetimes later. Lay destroyed, beaten, down, only the corpses of rebels, ashes of dreams, and blood stained streets, it has been written…" OK, the Motley Crue lyrics just appeared, which is weird, but it's true that Gory Graduation has been written. It's also been cast, and Henson and Johnson are currently raising a budget (which you can contribute to via indiegogo) to purchase more equipment and to hire a much larger cast/crew, on top of locking down a local high school (with, thankfully, a laid-back principal who has given the go-ahead in determination of budget).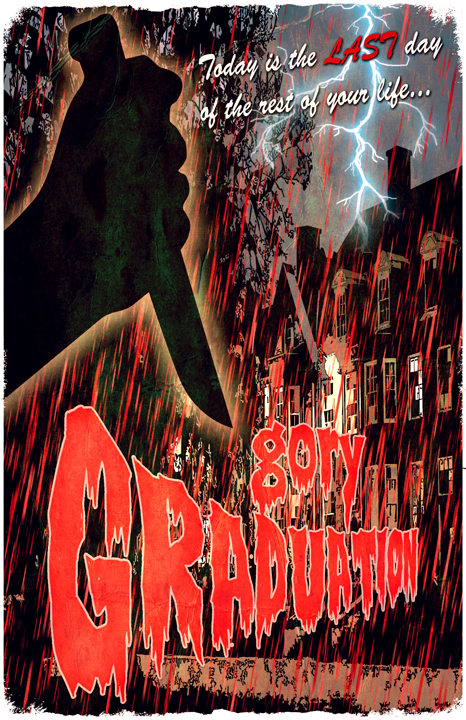 Henson commented on the project:
We're proud of The Night Before Easter, all things considered, …but with Gory Graduation, we really want to up the stakes internally and externally. If The Night Before Easter was sub-Roger Corman, we hope Gory Graduation will be sub-Argento in style, fluidity, and consistency.
If you want more on the history of Gory Graduation, and to find out about the perks offered to contributors, please visit their indiegogo page. For now, please enjoy the various posters and the movie's description below!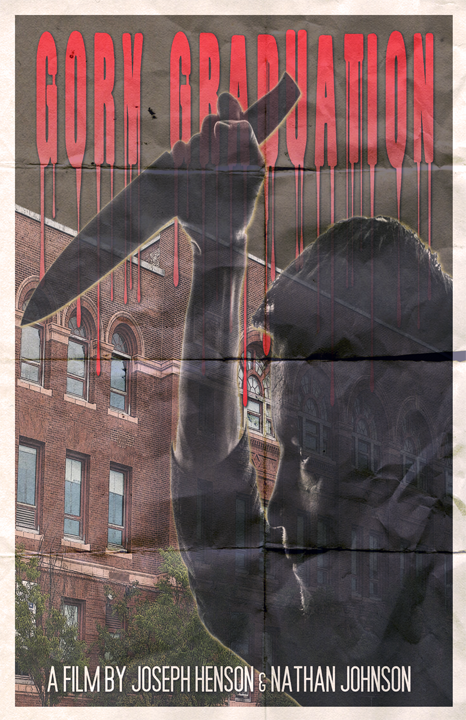 Gory Graduation Synopsis:
One week prior to their high school graduation, a group of students are given the task of decorating the school gymnasium for the upcoming ceremony. While some are more than happy to help, others aren't too keen with having to give up a Saturday evening. Meanwhile, Principal O'Hara is faced with a budget crisis that may end with the next school year being the private institution's last. Already cutting financial corners by holding the graduation ceremony on school grounds and using her students as slave labor, Mrs. O'Hara weighs the pros and cons of a fiduciary opportunity presented to her that may save the school from closing. Elsewhere, one student, excluded from attending the graduation ceremony, breaks into the school with the sole purpose of wreaking havoc. For the students and faculty of this once-esteemed institution, the worst is yet to come: someone has stolen a ceremonial cap and gown and seems to have access to an arsenal of weaponry, their sole mission to ensure that the school colors run blood red.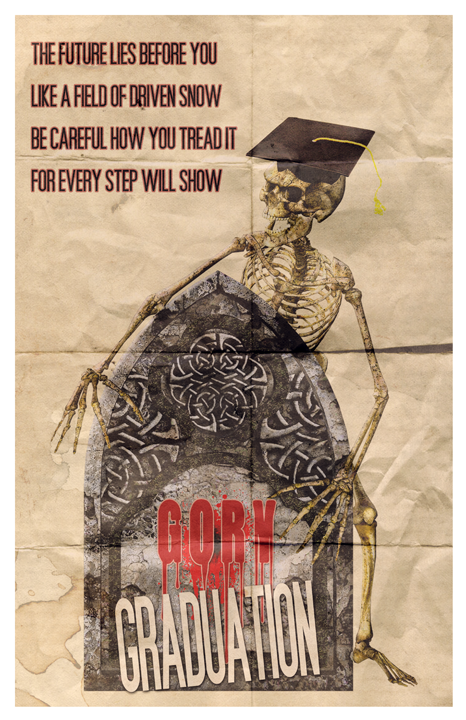 Rock Hard \m/