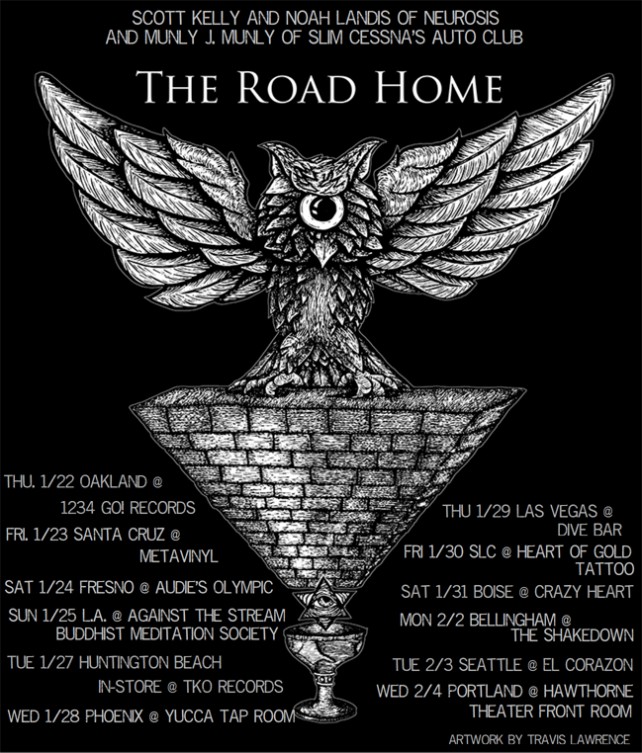 Does heavy metal have to be heavy? Yes or no, The Road Home's "The Forgiven Ghost In Me" is about as soft as heavy metal can get. Perhaps calling it progressive would put a different spin on it, especially since after the first chord you might expect the song to break into Pink Floyd's "Wish You Were Here," but I assure you that this track is vastly different… or is it? Well, yes, the moods are completely different, but both have a desert-infused Americana vibe to them, twangs and all.
Regardless, "The Forgiven Ghost In Me" is a gorgeous track from The Road Home, a band comprised of Neurosis' Scott Kelly and Noah Landis as well as Munly J Munly. Go check it out at Cvlt Nation.
The title track to Scott Kelly and The Road Home's 2012 debut LP, The Forgiven Ghost In Me, the project founded as a solo venture for Kelly, has recently been reinterpreted with the full inclusion of both Landis and Munly, as both now find themselves permanent residents of The Road Home.
As The Road Home continues to compile new material for the follow-up to The Forgiven Ghost In Me, the new lineup will be performing live regularly, which will begin this week on their new West Coast tour. From Thursday, January 22nd, through Wednesday, February 4th, they will play in 12 cities throughout California, Arizona, Nevada, Utah, Idaho, and Washington, including several record store performances. View the confirmed dates below.
The Road Home Winter Tour Dates:
1/22/2015 1234 Go! Records – Oakland, CA – in-store performance
1/23/2015 Metavinyl – Santa Cruz, CA
1/24/2015 Audies Olympic – Fresno, CA
1/25/2015 Against The Stream Buddhist Meditation Society – Los Angeles, CA
1/27/2015 TKO Records – Huntington Beach, CA – in-store performance
1/28/2015 Yucca Tap Room – Phoenix, AZ
1/29/2015 Dive Bar – Las Vegas, NV
1/30/2015 Heart of Gold Tattoo – Salt Lake City, UT
1/31/2015 Crazy Heart – Boise, ID
2/02/2015 The Shakedown – Bellingham, WA
2/03/2015 El Corazon – Seattle, WA
2/04/2015 Hawthorne Theatre front room – Portland, OR
Rock Hard \m/