Artist Laika Album Somnia Year Released: 30 September 2014
Label Filth Regime Records Genre Melodic Death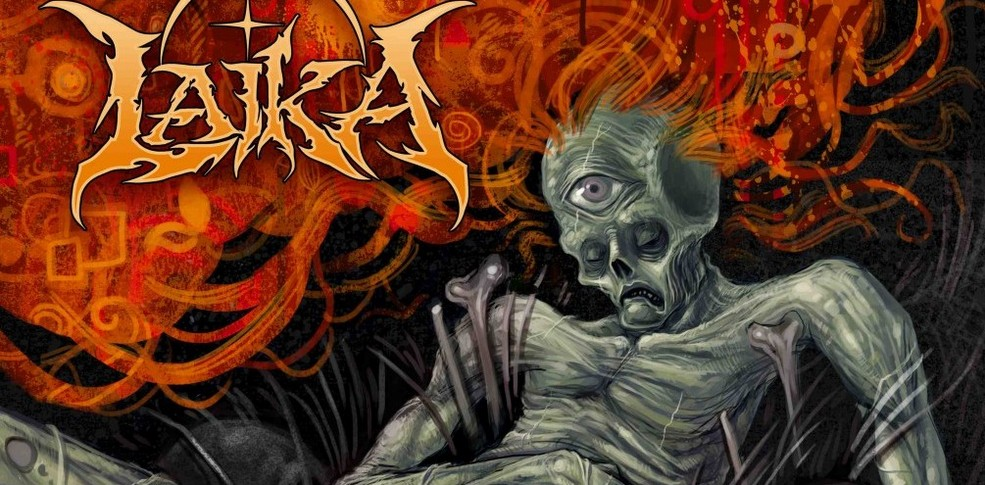 Laika released their second full-length album, Somnia, on September 30, 2014, and it is truly an inspired piece of work.
First, a bit of background. Laika hails from Canada and took their band name from the Soviet dog that was one of the first animals to be sent into space. They formed in 2009, independently released a self-titled album in 2010, hit the road and played alongside some pretty big heavyweights in the metal circuit, and finally took a small hiatus.
As a whole, Somnia has excellent pacing. It has a somber intro, a series of blistering melodic death metal tracks, a power-rhythm thrasher with tons of horror elements, a haunting instrumental, a punk-inspired track, more melo death, and closed out with a track that could easily fit into the Cradle of Filth catalog. Clearly, this is an ambitious album, and it's surprisingly accomplished. While Laika's inspiration is evident, there's not a single point where they sound like a clone or like they're trying too hard.
Somnia opens with "Restless Mind," which will at first have you thinking of Doc Brown's lab in Back to the Future. However, once the melancholic piano and synth work start up you know that you're headed down a much darker path. Then, suddenly, the album breaks into track two, "Escalation of Terror," which is a frenzy of Gothenburg-like metal. Lyrically, the track criticizes our complacency, while Jordan Dorge's choppy vocal delivery demands our ears. What a hell of an opener!
The next two tracks, "Somnia" and "Fidelity," are Laika's melo-death bread and butter. It's what they excel at, however, these songs serve as a primer for what is quite possibly the best song on the album, "Caligae A Galea." There are really three parts to this track, which seem to correspond to the narrative. It starts off with a rhythmic, almost joyful sway, and some playful notes on the keys, but by the time we get to the second verse we've entered darker terrain with the melodic death led by an eerie guitar lead. Shortly thereafter, we enter the track's second, and totally awesome, second phase. This part is horror. For some reason it reminds me of a Dario Argento film with a Goblin score. But that shift in everything leads to the track's "rebirth" in fire as the intensity has doubled. The third part of the track is furious with the drums being beaten twice as fast, the guitars on fire, and the bass holding the chaos together.
After that masterful track you'd think we'd be ready for some more bread and butter, but no, Laika take us on an instrumental ride with "Dream of Nothing." Here you'll have over five pensive minutes to decide what to do with the rest of your life. While everyone gets their turn in the spotlight, it's Blair Garraway on drums and Mike Mason on bass who really get to shine.
And still Laika doesn't give us complete dedication to Gothenburg after "Dream of Nothing." Nope. Instead we get the very punk-inspired "The Immortal." At times I get a very Misfits vibe from this track, although most of you will disagree with me, since it does meet the melodic death metal requirements.
After all that diversity of sound, now we get some bread and butter. Good thing we're hungry because "Predictions (Tide Bearer)" is a full serving. Bass and guitars are like a choppy ocean and the solos are like light, drifting birds on an updraft.
Somnia's closing track, "Invaders," is the most jazz-like, techie death song on the album. It's really well crafted, but it's not my thing. I do like the Back to the Future bookend though.
Rock Hard \m/
The Verdict:
Laika has hit a homerun with Somnia. There's nearly nothing to complain about, it could have been more aggressive, and the production is top-notch. The fact that a band this young could put together such professional sounding album only means that the future is either glorious or tragic. Let's hope for the former.