Artist Arch Enemy Album War Eternal Year Released: 10 June 2014
Label Century Media Genre Melodic Death Metal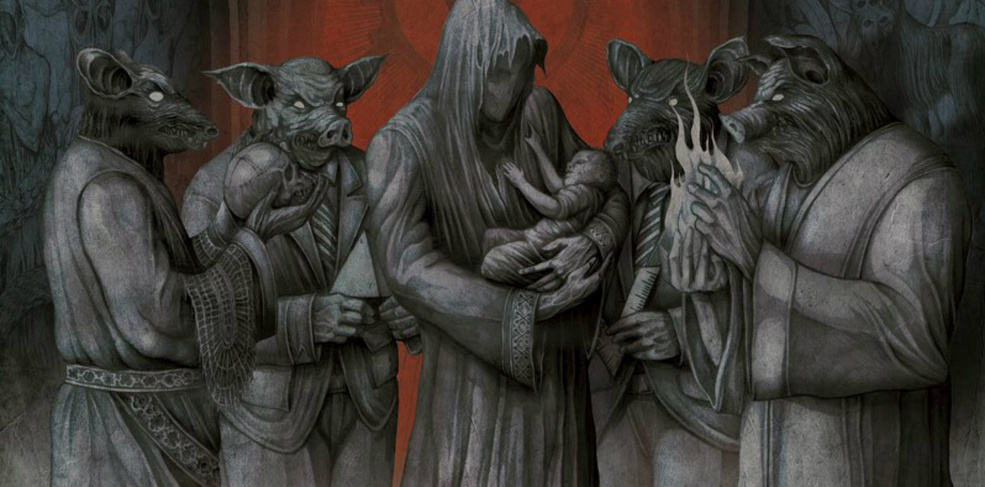 Imagine that you're a child of divorce coping with the Everest of adaptive skills, learning to get along with your parents' new love interests. So it is when a beloved band introduces a new vocalist. And it's a tough sell. However, it can, and has worked in the past.
But does it work with Arch Enemy on their latest album, War Eternal, with the introduction of Alissa White-Gluz?
Order Arch Enemy, War Eternal on CD or MP3.
Honestly, I was offput at first, insisting that this is in no way the Arch Enemy that I'd come to know and love. And that there's no way Alissa could ever fill the goliath vocal duties left behind by former vocal giant, Angela Gossow. That's still partially true after several listens to War Eternal, but the work does grow on you.
Now, understand that Alissa is a great vocalist in her own right and was fantastic with her former Montreal-based band, The Agonist. Despite actually having vocal coaching from Angela, Alissa has a style all her own, a style that she's transposed to Arch Enemy. One thing I notice is the impression that her throat is tighter, enabling her to hit a higher note. Another element is her vocal melody, which is vastly different from Angela's. So, songs in which Alissa's style and personality come through, such as on "Never Forgive, Never Forget," "No More Regrets," "Stolen Life," and "Time Is Black" there's a move away from the Arch Enemy of the past.
Another aspect of Alissa's personality that's shown is her flare for the dramatic or theatrical. That's not to say that Arch Enemy is a stranger to symphonic elements or studio tricks, and perhaps these things are under the microscope because of Alissa's introduction, but these things seem to have gained prominence on War Eternal. Have a listen to "Tempore Nihil Sanat (Prelude in F minor)," which could serve as theme music to American Horror Story; "You Will Know My Name"; "Time Is Black"; and "Avalanche" to get a taste.
Understanding that Arch Enemy announced War Eternal's release date and title just days prior to Angela Gossow's statement that she was leaving the band, the album was most likely near completion. Certainly the majority of the songs had been finalized. So it stands to reason that Alissa didn't contribute to the majority of songs, having already been written with Angela in mind. As such, we get a handful of classic-sounding Arch Enemy tracks: "War Eternal," "As the Pages Burn," "You Will Know My Name," "On and On," and "Down to Nothing."
Alissa isn't the only new Arch Enemy member to make a debut on this album; Nick Cordle joined the band on tour in 2012. On War Eternal he blends in flawlessly, trading guitar licks with Michael Amott like it was old hat. And some of the guitar solos on the album are top-notch, producing the "oh shit" effect in anyone who gets off on great tone and fret action. Check out "Never Forgive, Never Forget," "War Eternal," "No More Regrets," and "Down to Nothing" for some prime examples. In the same breath, there's nothing out-of-the-way extraordinary from the guitars here. Just clean and crisp work.
True to form, Daniel Erlandsson is beast behind the kit, giving everything just the right amount of whatever is required. Unfortunately, Sharlee D'Angelo, didn't get a time to shine as he did on Khaos Legions.
The Verdict:
Arch Enemy didn't push the envelope on War Eternal, and perhaps they should have given the new elements at work. The album plays it safe, and because of this it's a very middle-of-the-road effort. It's confusing because everything is in place, right where it should be, but perhaps the dust of trepidation layers it all. It's sonic, but not as sonic as Khaos Legions was, and that's an album that took its own criticisms. No one expects Alissa White-Gluz to sound like Angela Gossow, but that's what'll happen when you replace a female singer with another female singer. One wonders what would have happened had Arch Enemy took on another male vocalist.