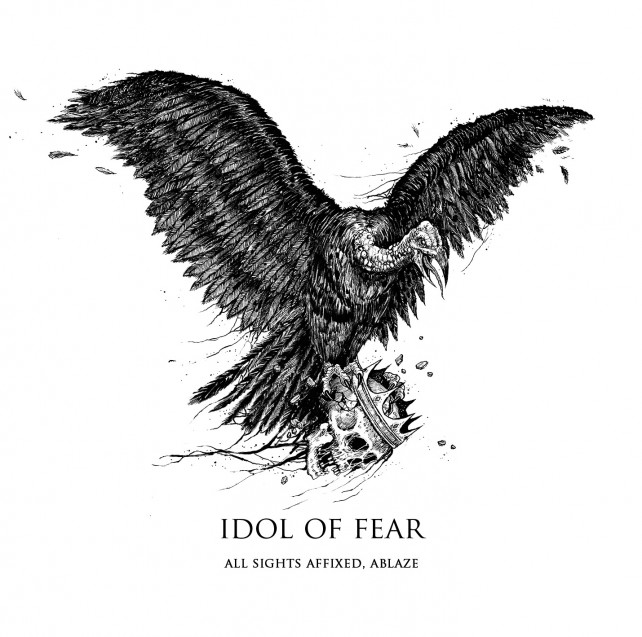 Idol of Fear, hailing from Barrie, Ontario, Canada, have premiered the title track from their forthcoming debut full-length, All Sights Affixed, Ablaze, due out November 18th. Head on over to nocleansinging.com for a full stream of the six-minute track.
Although the band is generally classified as a "black death" outfit, one listen of this track and you'll find all sorts of influences and shifts in tone, but it's all dark and weighty. Pay attention to the shift near the conclusion of "All Sights Affixed, Ablaze" and see if there's a rock-centric Rammstein influence there. Actually, being from Canada it's surprising that Idol of Fear has such a European sound.
Maybe it's not so surprising since so much of the great heavy metal in Europe comes out of those frigid climes of Finland, Sweden, and Norway. As vocalist/guitarist Austin Meyers explains, the Canadian cold does influence the band:
The title track 'All Sights Affixed, Ablaze' was penned during the depths of a dark winter. It is a lyrical blend of perseverance, strength, and exertion of the will through frigid existence. Our music has these themes of power and struggle that tend to re-occur, though it naturally ventures into different realms as well.
All Sights Affixed, Ablaze was mastered by Tore Stjerna (Watain, Corpus Christi) at Necromorbus Studio and mixed by Jeff Wardell. The albums' amazing cover art was created by Mark Riddick.
Pre-order All Sights Affixed, Ablaze here.
Rock Hard \m/