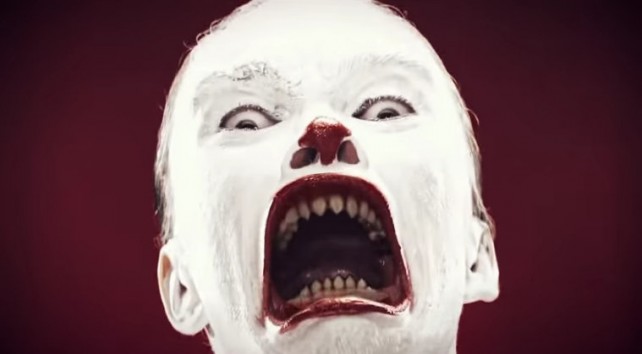 We've been a bit lackadaisical with bringing you news about the upcoming Season 4 of American Horror Story: Freakshow. Time to remedy that with a blast of all 14 of the teaser trailers that have been released thus far, the latest of which hitting the airwaves just yesterday. They're all really short, serving to simply introduce you to characters or general concepts that you'll see on the show.
Tell us in the comments section below which teaser trailer you like best.
Jessica Lange plays German chanteuse Elsa Mars, who's been the freakshow's manager (and legal guardian) for 20 years. Sarah Paulson plays conjoined twin Bette & Dot Tattler, who are pleasant and cynical, respectively. Kathy Bates plays the alcoholic bearded lady Ethel Darling (Jimmy's mother and Dell's ex-wife). Dell Toledo will be the strongman on the run from the law. Toledo's wife, Desiree Dupree, played by Angela Bassett, has three breasts (a "real-life" story now). Evan Peters plays Lobster Boy (Ethel and Dell's son), who has lobster claws for hands. Emma Roberts plays Maggie Esmerelda, a con-artist fortune teller. Watch them all and more next month.
American Horror Story: Freakshow premieres on FX on October 8th.
Watch the teaser trailers below, and let us know which is your favorite in the comments section below.
American Horror Story: Freakshow – Teaser #1
http://youtu.be/FRPD54lB4Ek
American Horror Story: Freakshow – Teaser #2
http://youtu.be/97JmIcpQ4_0
American Horror Story: Freakshow – Teaser #3
http://youtu.be/IzAwZcHaEPo
American Horror Story: Freakshow – Teaser #4
http://youtu.be/dVuTdaw4F_A
American Horror Story: Freakshow – Teaser #5
http://youtu.be/yfnKd6LI1rY
American Horror Story: Freakshow – Teaser #6
http://youtu.be/oaYAuQKvJTo
American Horror Story: Freakshow – Teaser #7
http://youtu.be/ZzI_9g4eM40
American Horror Story: Freakshow – Teaser #8
http://youtu.be/cC5PtLFGA8Q
American Horror Story: Freakshow – Teaser #9
http://youtu.be/S4BQl5ne31Q
American Horror Story: Freakshow – Teaser #10
http://youtu.be/yPrHVyPO5d8
American Horror Story: Freakshow – Teaser #11
http://youtu.be/ryGWbL1vb04
American Horror Story: Freakshow – Teaser #12
http://youtu.be/tpit9o_b3I0
American Horror Story: Freakshow – Teaser #13
http://youtu.be/LQ5XM38vaFM
American Horror Story: Freakshow – Teaser #14
http://youtu.be/Y439KqAUt44
Rock Hard \m/