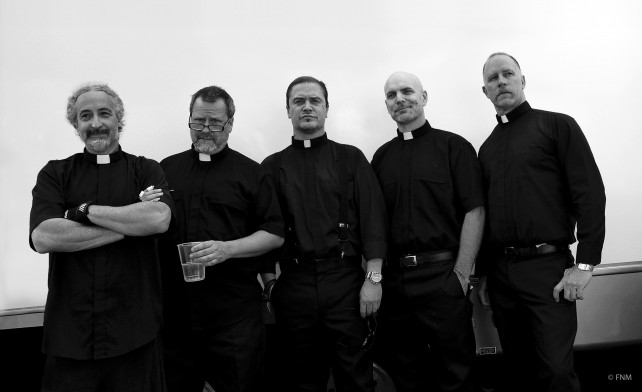 I think I just wet myself. Faith No More has long been in my top 5 bands of all time, and I brokenheartedly gave up all hope of ever hearing a new album of new material from them a long time ago. Yes, even if they had a successful reunion in 2009 for a series of sold-out performances.
Whatever this new album will be called, it'll be the first since 1997's Album of the Year, and it's scheduled to drop in April 2015!
According to the press release, a limited-edition (5,000 copies) 7-inch single of the song "Motherfucker" will precede the April 2015 release, available via Record Store Day's Black Friday event (November 28th). The single will be released digitally on December 9th.
Founding member/bassist Bill Gould commented on the endeavour to make a new Faith No More album:
We've always shared a chemistry between ourselves that's unique to this band, but these past few years of touring together have made us aware that we not only play better as a unit, but we like the new stuff we're coming up with. So we've decided: we're going to get busy in 2015… make an album we're proud of, kick things up a notch, get out there and perform it, and maybe even dedicate a little more focus to our fans in the States this time.
The as-of-yet untitled album is being recorded in an Oakland, California, studio with Gould handling production. The release will be the first from Faith No More's newly formed imprint, Reclamation Recordings, which will be distributed by Ipecac Recordings.
Prior to the new album's release, Faith No More will headline Australia's Soundwave Festival in February 2015. Worldwide tour dates will be announced soon.
Faith No More Is:
Mike Bordin (drums)
Roddy Bottum (keyboards)
Bill Gould (bass)
Jon Hudson (guitar)
Mike Patton (vocals).
Rock Hard \m/