Yes! This is how doom metal should sound in the 21st century. It's dark, brooding, fuzzy, fresh, inventive, and simultaneously retro and modern. There's a whole lot more going on too, such as the near Rob Zombie vocal styling (well, when he's doing creepy background stuff), the melding of layers that vinyl usually achieves, and the perfect imperfection.
Have a listen to Electric Wizard's "SadioWitch" in the player above.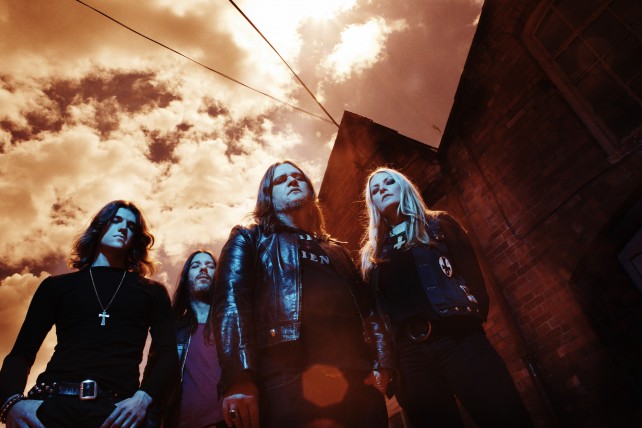 "SadioWitch" is the second track released from Electric Wizard's forthcoming album, Time to Die (due out September 30th). The track will soon have a video to go along with it, and it's rumored to have nudity and explosions in it. About the track itself, guitarist/vocalist Jus Oborn has stated:
'SadioWitch' is about death by lust and indulgence. As life becomes disillusioning it is reassuring to turn to 'life's luxuries'… sex and drugs. But, of course, overindulgence leads to emaciation, weakness, and death. The song is short and sweet just like this particular form of death. There are many choices but only one outcome. Choose wisely.
Electric Wizard and Spinefarm Records are also releasing "SadioWitch" on a 7" vinyl, with a B side that's previously unreleased and not included on Time to Die. So, if you're a collector, that's probably something you'll want to get your hands on.
All official Electric Wizard pre-order bundles are now live at www.ElectricFuckinWizard.com, featuring limited numbers of vinyl, CD, t-shirt, back-patch, and pin badge packages.
If you have the chance, don't forget to catch Electric Wizard live on one of their handful of dates this fall.
Electric Wizard show dates:
Sept. 12 Valada, Portugal Reverence (headline with Hawkwind)
Oct. 10 Antwerp, Belgium Desertfest
Oct. 23 Manchester, UK The Ritz
Electric Wizard Is:
Justin Oborn – Guitar & Vocals,
Liz Buckingham – Guitar & Feedback,
Clayton Burgess- Lead Bass,
Simon Poole – Drums
Rock Hard \m/