Call them hard rock, call them heavy metal, call them whatever you like, but there's no denying Aerosmith's influence on rock and heavy metal. Mötley Crüe, Guns N' Roses, Metallica, Def Leppard, Nirvana, The Cult, Kid Rock, Soundgarden, Pearl Jam, Queens of the Stone Age, The Black Crowes, Buckcherry, Korn, and many others owe Aerosmith a huge debt of gratitude. So do you; just look at all the great bands that were influenced by "The Bad Boys From Boston."
But let's get this out of the way. According to Sam Dunn, the terms "heavy metal" and "hard rock" were synonymous prior to the '80s because heavy metal had yet to break off into its own thing. So, in many respects, this is why many of the classic rock bands of the '60s and '70s are sometimes classified or referred to as heavy metal, despite the protestations of many would-be experts.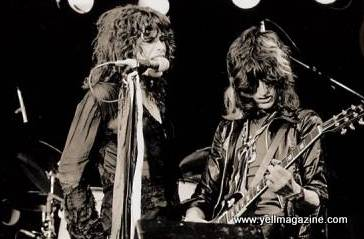 In my opinion, any metalhead worth his salt can comfortably sit in a parking lot on a hot summer night and listen to Aerosmith, Megadeth, Death Angel, KISS, Van Halen, Slipknot, Metallica, Judas Priest, etc. on a back-to-back basis.
Aerosmith is one of those bands with a legendary story. Emerging at the dawn of the '70s, their sound was described as something between the Rolling Stones and the New York Dolls. If you know these bands, then that makes total sense. What doesn't make sense is that by the time Aerosmith had released their third album, Toys in the Attic, in 1975, critics were calling them punk rock. But when you consider that they were breaking the conventions of modern rock at the time, set by the like of Led Zeppelin and Black Sabbath. Instead, Aerosmith stripped away the elitist, almost prog elements of Zeppelin, and offered rippin' riffs that rocked. Basically, Aerosmith played music you could either party to or fuck to.
But, by the time the '80s came, Aerosmith had enjoyed massive success and fell victim to the perils of massive drug use. Hey, two of your members don't become known as "The Toxic Twins" for nothing. So, with both guitarists (Joe Perry and Brad Whitford) leaving the band and a failed album with two replacements, a regrouping, and an inability to perform because of drugs, the band went on hiatus (i.e., into rehab).
In 1986, with an appearance with Run-D.M.C. on their cover of Aerosmith's "Walk this Way," the stage was set for an ultimate comeback. In 1987, Aerosmith released Permanent Vacation, which spawned three massive hits, sold three million copies, and landed at No. 11 on the charts, all of which added up to one of rock's greatest comebacks.
After Permanent Vacation, Aerosmith released Pump and Get a Grip, both massively successful, and essentially the same album. I like Pump as it didn't sound like previous work from the band, but it definitely was the template for their future formula. And that's why I think Permanent Vacation is so great; it sounds nothing like Aerosmith from the '70s and nothing like anything afterward, but it's still distinctively Aerosmith.
So, with that and because Aerosmith is currently on tour I give you this performance from 1977, perhaps their best era from the '70s.
Aerosmith Live In Houston (1977) Tracklist:
1.Back In the Saddle
2.Mama Kin
3.S.O.S. (Too Bad)
4.Big Ten Inch Record
5.Lord of the Thighs
6.Dream On
7.Lick and a Promise
8.Adam's Apple
9.Sweet Emotion
10.Sick As a Dog
11.Draw the Line
12.Walk This Way
13.Rattlesnake Shake
14.Same Old Song and Dance
15.Toys In the Attic
16.Train Kept a Rollin'
17.Helter Skelter
18.The Batman Theme
19.The Peter Gunn Theme
Vocals: Steven Tyler
Guitar: Joe Perry
Guitar: Brad Whitford
Bass: Tom Hamilton
Drums: Joey Kramer
Yell! Magazine's Concert Series brings you kick-ass live shows to get your party started right and to help you vent your Friday frustrations.
Rock Hard \m/