The Danish metaller is known to have followed LaVeyan Satanism, and on his stage he makes use of horror themes and Satanic imagery. It's a virtual house of horrors disguised as heavy metal.
King Diamond (aka, Kim Bendix Petersen) got his start in 1974 with Brainstorm, moved on to Black Rose, joined the Brats in 1980, and from there formed Mercyful Fate in 1981. King Diamond has been in and out of Mercyful Fate through the years, since forming his solo band in 1985.
Aside from his evil persona, he's also known for his falsetto vocals, which I find extremely annoying. I much prefer is natural singing voice, but I get that the falsetto adds to the theatrics. Think what you will about his vocal style, the music of King Diamond is among the best metal you'll hear.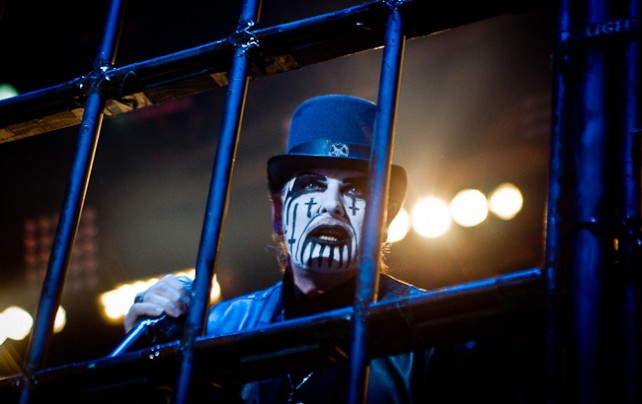 You'll hear and see proof of King Diamond's superior stage show, and the best thing about it is how King Diamond plays air guitar with his microphone. You gotta love someone who's a fan of his own music. The video isn't bad for someone filming from the audience, but you'll be surprised by the audio (I'm guessing someone was jacked into the soundboard).
King Diamond: Live At Sweden Rock Festival (2012) set list:
[00:00] 01. Intro
[01:33] 02. The Candle
[07:00] 03. Welcome Home
[11:31] 04. Matt Drum Solo
[13:28] 05. Voodoo
[18:20] 06. At The Graves
[27:36] 07. Up From The Grave
[31:00] 08. Let It Be Done
[32:17] 09. Dreams
[37:10] 10. Sleepless Nights
[42:25] 11. Andy + Mike Solo
[44:47] 12. Shapes Of Black
[50:19] 13. Come To The Sabbath (Guests: Hank Shermann + Michael Poulsen)
[55:54] 14. Eye Of The Witch
[61:12] 15. Band Introduction
[62:11] 16. The Family Ghost
[67:24] 17. Halloween (Guests: Michael Denner + Mikkey Dee)
[74:15] 18. Black Horsemen
Yell! Magazine's Concert Series brings you kick-ass live shows to get your party started right and to help you vent your Friday frustrations.

Rock Hard \m/