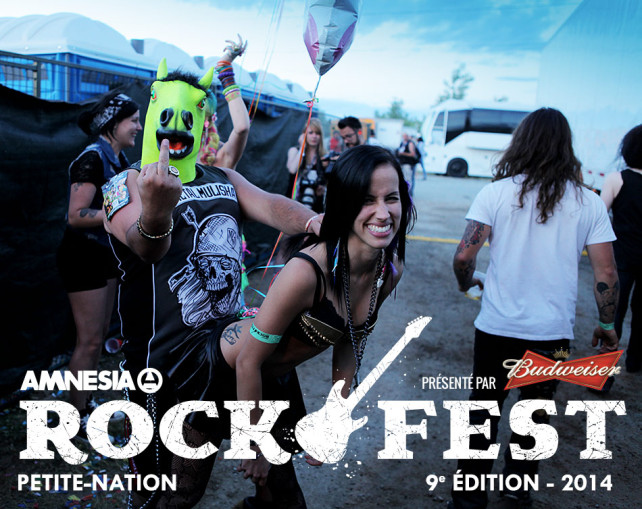 Amnesia Rockfest 2014 is over and done. By now, the site is cleaned up, an operation that started before we were even off the grounds, and the town of Montebello has almost surely returned to normal, and to its original population of 1,000 citizens. Albeit, these citizens likely have fuller pockets as a result of playing host to the sold out crowd of more than 200,000 visitors. With so many visitors and tickets having been sold on every continent, the ninth annual Amnesia Rockfest was the most successful to date. The generated revenue hasn't been reported yet, but there's no doubt that it has exceeded last year's total of $10 million.
The event itself was an improvement over last year's. The fest grounds were expanded, which resulted in the stages being more evenly spread out and easy to find a good vantage point, there seemed to be more porta potties, beer was resonably priced, lines moved quickly, and the food, though consisting mostly of fried fare, was priced according to the type of event. I'm not vegetarian, but healthy and vegetarian options were likely hard to come by; I certainly didn't see any. Ah, yes, and what I always love to see at a festival, there was an area reserved for something else other than music. Throughout the weekend Amnesia had a small skate ramp set up for boarders to show off their skills. I'm glad to see this sort of thing gaining popularity at Quebec events; last year at Heavy MTL there was a wrestling ring set up with local graplers offering bountiful entertainment, and I hear the same can be expected this year at Heavy Montreal.
But I like the skate ramp, as it suits the crowd vibe better at Amnesia Rockfest with all the punk rock and punkers present. It's a very different crowd than we usually see at Heavy Montreal. It's less "black" and actually closer to that classic "heavy metal parking lot" "let's party" community from the '80s heavy metal scene.
Logistically, Amnesia Rockfest 2014 seemed to run as smooth as a well-oiled machine. Parking, camping, shuttle service… it appeared to be flawless. This was our third time covering the event and there was a noteable increase in law enforcement personel on hand, and they did a fine job. The fans that arrive in Montebello are generally respectful, although they're doing things outside normal legal parameters, and while the police aren't exactly turning a blind eye, they are far more tolerant than I've seen anywhere else. Basically, as long as no one is getting hurt and no property damage is happening, the police are there to make sure we're all safe. And it didn't go unnoticed by the fest goers as many of them hugged and thanked the coppers at the end of both evenings as they made their way back to their tents.
Next year marks the event's 10th anniversary. Can you believe it? What started out as a 17-year-old boy's dream has grown into a million dollar annual event, and it's been going on for 10 years. Early word is that the lineup has already been established, although that is a very big secret right now. No doubt, considering it's the 10th anniversary, there are going to be some major headliners and it's going to be an amazing event in 2015.
We can't wait to see you all there next year!
Rock Hard \m/