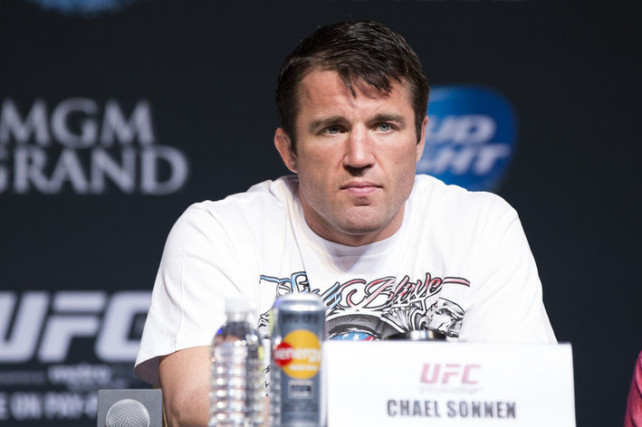 After recently failing his random Nevada Athletic Commission drug test, and his claims that he needs those prescribed drugs for health and fertility reasons, Chael Sonnen has announced his retirement.
Announcing his retirement on UFC Tonight on June 11th, the 37-year-old mixed martial artist ended his 17 year career, choosing his health and family over fighting:
I want to stay within the rules. I have to put my health first and my family first. If I know what I know now, that (these substances) are going to work, get my wife pregnant, let me have a family, I will do the exact same thing 20 times. If it puts me out of compliance 20 more times, then let's stop. I will remove myself. There is going to be a day where I don't have the title of fighter. That was always going to happen. I never want there to be a day where I don't have the title of parent, father and husband. My health has got to come first.
Sonnen went on to thank pretty much everybody, and his long-time rival:
I want to thank the single most important opponent I ever had. I couldn't have gotten to where I am without this dance partner and that is, of course, Anderson Silva. I thank you for the opportunity and the memories.
Sonnen was facing a suspension because the drug test found the anti-estrogen medications anastrozole and clomiphene in his system. His claim is that he needs those because he stopped taking TRT, which the commission banned earlier this year.
What should Sonnen do now? Obviously he wants to be a father and a husband, but with his mouth and knowledge of MMA to back it up, he is a perfect candidate to become a color commentator.
What do you think: Did Sonnen make the right decision? Are you sad to see him go? Should he become a color commentator?
Rock Hard \m/