1973 was a great year for horror. Not only was there The Exorcist, but also such standout titles as Blackenstein, Cannibal Girls, The Crazies, Female Vampire, The Forgotten, From Beyond the Grave, Horror Hospital, Return of the Blind Dead, Satan's School for Girls, Vampires Night Orgy, and The Wicker Man. Obviously all of these were nominated for an Oscar.
The year also gave us the John Hough-directed and Richard Matheson-penned The Legend of Hell House, which let us all know that alcoholism and drug use are evil things. Now, thanks to Scream Factory, the classic flick is coming to Blu-ray on August 26th, 41 years after its initial release.
About The Legend of Hell House: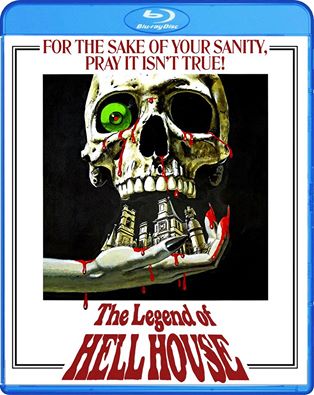 It sits here, shrouded in mist and mystery, a nesting place for living evil and terror from the dead. It's Hell House. Roddy McDowall heads the cast of this exciting chiller about four psychic investigators and the dark, brooding mansion they call 'the Mt. Everest of haunted houses.' It's already destroyed one team of researchers. Now this brave quartet ventures in for another try at unraveling its secrets.
But before they succeed, they must suffer through madness, murder, and everything else that the spirits who dwell here have in store for them. Yet learning the truth just might drive them all insane. An ingeniously devised ghost story, The Legend Of Hell House will thrill and delight veteran horror fans from the first creaking door to the very last slithering shadow.
Blu-ray Special Features:
New Interview With Director John Hough
New Audio Commentary With Actress Pamela Franklin
Original Theatrical Trailer
Rock Hard \m/