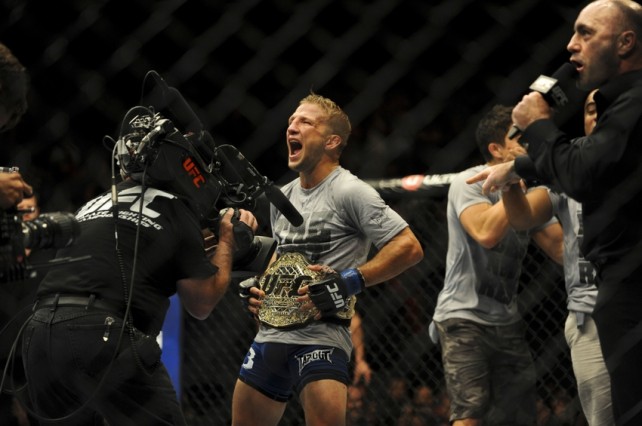 T.J. Dillashaw shocked the MMA world after he defeated UFC bantamweight kingpin Renan Barao on Saturday night at UFC 173 in Las Vegas, Nevada. Dillashaw won the fight in dominant fashion and picked up the strap right after the fifth round by TKO (head kick and punches).
This marked Renan's very first loss in the UFC since his debut in 2011, and it remains his second loss in his entire MMA career. On paper, there was absolutely no way for Dillashaw to win, but on fight night, Dillashaw clearly kept his composure and stuck to the game plan inside the Octagon. The first round set the pace for Dillashaw after he dropped Renan with a monster right that sent the former champion dazed for the remaining rounds.
Renan's head coach Andre Pederneiras immediately saw that he wasn't the same after that strike, however, Renan kept fighting in "automatic mode." Pederneiras now wants the UFC to give Renan an immediate rematch with Dillashaw, and challenges the new UFC bantamweight champion to fight Renan in Rio de Janeiro next time.
We're asking for an immediate rematch. It's fair, and we're looking a way to do it. It can't happen in less than five or six months, but I think that's how long T.J. is going to be out. Everybody wants to see another fight between them, since it was the fight of the night.
The ideal would be bringing this fight to Brazil. There's going to be a big event here in Brazil, apparently in October in Rio de Janeiro. Let's see is these guys are man enough to fight Barao in his house.
During the UFC 173 post-fight presser, UFC President Dana White wasn't opposed in giving Renan an immediate rematch. If things pan out the way Team Barao want it to go, the rematch could potentially be set for UFC 179 on October 25 in Brazil.