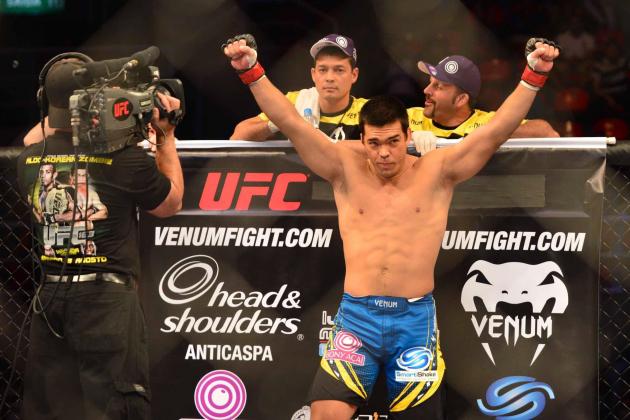 Hopefully there's no more delays due to injuries for the highly anticipated championship fight between Chris Weidman and Lyoto Machida at UFC 175 since many, including myself are looking to see Machida avenge Anderson Silva's second loss to Weidman at UFC 168.
However, during a recent UFC 175 press conference, "The Dragon" who's a close friend and Black House partner to Anderson says he is ONLY fighting to bring the belt back to Brazil, and no way for revenge.
There's no way, everyone has got their own career and this is my chance at the belt, so there is no sense of revenge.
Machida is currently riding on a two win fight streak after beating Gegard Mousasi at UFN 36 in Februrary. If Machida dethrones Weidman at UFC 175, he will be the third Brazilian title holder along with Jose Aldo Jr. and Renan Barao. "The Dragon" believes pressure is the key factor in beating Weidman.
There is always pressure, and I change that pressure into motivation, and the motivation is to bring that belt to Brazil.
UFC 175: Weidman vs. Machida is officially set in stone for July 5, 2014 at Mandalay Bay Events Center in Las Vegas, Nevada.
---
UFC 175 Fight Card
Chris Weidman (c) vs. Lyoto Machida
Ronda Rousey (c) vs. Alexis Davis
Chael Sonnen vs. Wanderlei Silva
Urijah Faber vs. Alex Caceres
Stefan Struve vs. Matt Mitrione
Uriah Hall vs. Thiago Santos
Santiago Ponzinibbio vs. Ildemar Alcantara
Luke Zachrich vs. Guilherme Vasconcelos
Chris Camozzi vs. Bruno Santos