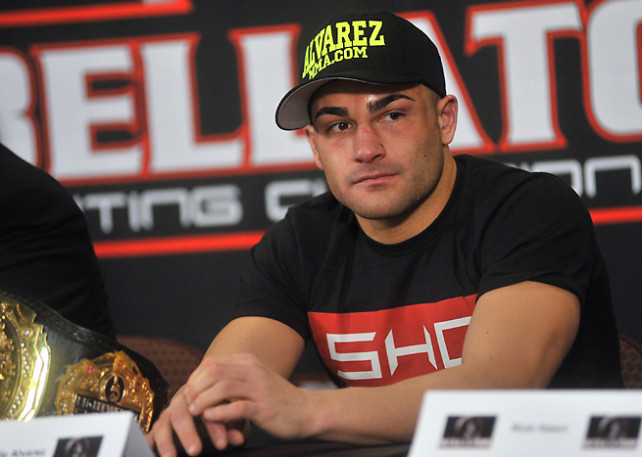 News recently broke that the trilogy fight between Bellator favorites Eddie Alvarez and Michael Chandler has been officially cancelled. Leaving many MMA fans wondering over the weekend if Bellator's pay-per-view (PPV) is going to be in jeopardy again, just as the company's first attempt at PPV was last year with Tito Ortiz and Rampage Jackson.
Bellator's first PPV event was quickly moved to a FREE fight card on Spike TV, but Bellator 120 won't be seeing the same faith this year. According to various reports, American mixed martial artist Will Brooks has stepped in to replace Alvarez on May 17th, and will square off inside the cage against Chandler for the lightweight interim title.
Chandler is looking forward to the new bout with Brooks, and hopes the best for Alvarez:
This has been a crazy few days with a wide range of emotion, but with Will now in the picture, I know we are going to have fireworks on May 17th, I wish Eddie the best, and I'm looking forward to finishing our trilogy, but now I'm focused on the task at hand.
Alvarez was forced to pull out of Bellator 120 because he suffered a concussion in training, and there's no word yet on when he will fully recover. But you can still expect to see Alvarez vs. Chandler 3 go down sometime in the near future.
For now, Bellator 120 is still right on schedule and will headline a bout between Rampage and King Mo. Check out the full fight card below.
---
Bellator 120 MAIN CARD
– Quinton "Rampage" Jackson vs Muhammed "King Mo" Lawal
– Michael Chandler vs Will Brooks
– Alexander Shlemenko vs Tito Ortiz
– Blagoi Ivanov vs Alexander Volkov
– Rickey Rainey vs Michael Page
PRELIMINARY CARD
– Cheick Kongo vs Eric Smith
– Shahbulat Shamhalaev vs Fabricio Guerreiro
– Goiti Yamauchi vs Mike Richman
– Zach Underwood vs Austin Lyons
– Justin Fraziervs Mike Wessel
– Ben Brewer vs Andy Uhrich
– Anthony Lemon vs Codie
– Cortez Phelia vs Brain Hall