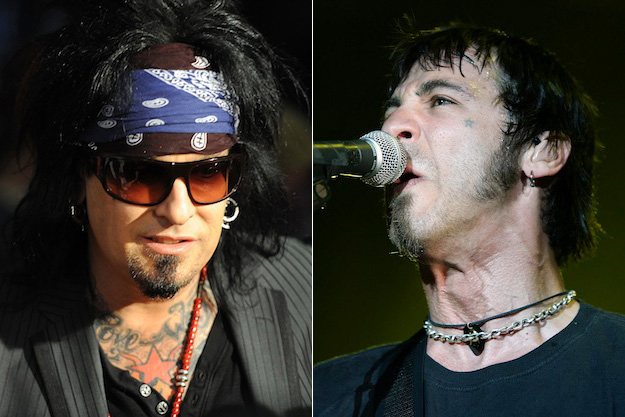 The feud between Motley Crue's Nikki Sixx and Godsmack's Sully Erna seems to be escalating, and we just can't ignore it anymore because it's a classic, juicy Heavy Metal hate-fest. As much as it makes a part of the media trying to capitalize on dirt between others, this is the kind of beef that was all too familiar to us growing up (Dave Mustaine vs. Metallica, David Lee Roth/Sammy Hagar vs. Van Halen, Axl Rose vs. Slash/everybody, Dee Snider vs. the Government, etc.).
The feud might not actually be escalated, so much as more information is being revealed.
It all starts back in 2009, when on the Crue Fest 2. Some issue happened back then, Godsmack went on to write and record "Cryin' Like a Bitch," which is reportedly about Sixx, and now the two are at odds.
On April 30th, Sixx Tweeted:
So @godsmack begged to be on @Sixxsense to promote their shit new album.Good luck touring phonebooths.Whos crying like a bitch now?
Shortly after the Tweet, Sixx piled more onto it on an episode of Sixx Sense:
Yesterday somebody came into the studio and they said, 'Hey, Godsmack would really like to be on this show.' And I said, 'Over my dead [expletive] body.' And they said, 'Well, you know, they wanna be on the show because their record's coming out.' And I go, 'Did you forget the fact that they wrote a song about me called 'Cryin' Like a Bitch' and that there's probably 15 festivals that Motley Crue is headlining and that we said if Godsmack's on 'em, we're not doing them?'

And that was just the beginning of my revenge. And that I take every opportunity to slander them and be very immature? And then they wanna be on the show? Dude, have some credibility. I mean, Jesus Christ! I'm so embarrassed for you. At least you can go, 'We've got a new record and we don't wanna be on that [expletive]'s radio show. Well, we actually need some help now.' Have you ever burned a bridge and looked back and went, 'I can use a lifeline right now?'
And there it is from the horses mouth, Motley Crue has threatened to withdraw from shows and festivals, up to 15, if Godsmack is added to the bill. Ouch!
The odds of this feud going on for decades is highly unlikely. One reason being that Motely Crue will soon be "semi-retiring." Another reason being that Sixx knows that it's silly and "immature." It's just a beef and probably neither party remembers what started it all. It's still entertaining though. I'd be interested in hearing Sully's response and take on it, but so far the Godsmack camp has been mum.
Source: Blabbermouth
Rock Hard \m/