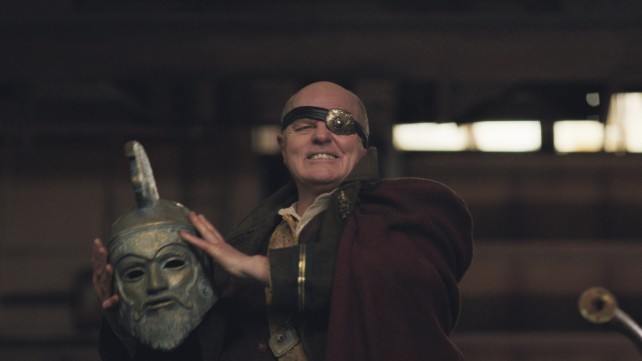 Photo by Jean-Philippe Bernier
Filming appears to be well underway for Turbo Kid, a Canadian splatter comedy based on the fan-favorite ABCs of Death short T is for Turbo. Production kicked off earlier this month and one of the film's key stars has already wrapped up his evildoing.
Last week, we broke news that Michael Ironside was spotted in Montreal and all geared up for his role as "Zeus," the self-proclaimed leader of the Wasteland in Turbo Kid. According to Executive Producer Jason Eisener (Hobo with a Shotgun) and team RKSS, Ironside wrapped up "Zeus" and said his goodbyes to the set of Turbo Kid over Easter weekend.
Yesterday was Michael Ironside's last day with us on set. Working with him was truly a blast, and we feel very privileged. For the occasion, we share with you a second frame of the movie: Michael Ironside as Zeus, Eisener said via Facebook.
Turbo Kid is a Canadian (EMAfilms) and New Zealand (T&A Films) co-production that also stars Munro Chambers (Degrassi – The Next Generation, Cracked) as The Kid, Laurence Leboeuf (19-2, Trauma) as Apple, Aaron Jeffery (X-Men Origins) as Frederic, Edwin Wright (Top of the Lake) as Skeletron, and Romano Orzari (Omertà) as Bagu.
Although, Ironside's part is now complete, more filming for Turbo Kid is expected to take place in Montreal.
---
Michael Ironside Talks Turbo Kid