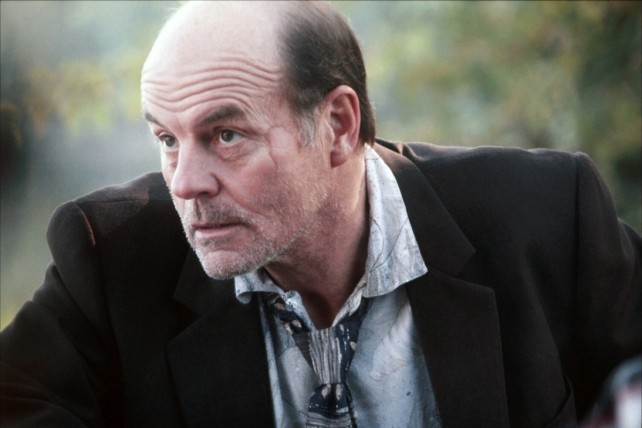 That's right, folks! Michael Ironside, the man with one of the most distinguishable Canadian voices of all-time in the movie and video game industry, also a legend who appeared as a villain in numerous sci-fi films like Total Recall and Scanners, will add another sadistically incorrect role to his list with a part in Turbo Kid. Based on the T is for Turbo short by the Montreal Collective known as the Road Kill Super Star (RKSS) (Anouk Whissell, François Simard, and Yoann-Karl Whissell), the feature film went into production two weeks ago.
Ironside has been selected to play "Zeus," previously played by Quebec actor Yves Corbeil in T is for Turbo. The main villain in this post-apocalyptic comedy, alongside other actors such as Munro Chambers, Aaron Jeffery, Laurence Leboeuf, Edwin Wright, and Romano Orzari.
Turbo Kid, a Canadian (EMAfilms) and New Zealand (T&A Films) co-production, is currently being filmed in Montreal. We have more proof of that right below and it's a bloody mess again! Check it out!

Day 6 – photo credit: Maxime Lamontagne
---
More on Turbo Kid
In a post-apocalyptic parallel future of 1997, an orphaned teenager called The Kid scavenges the Wasteland searching for relics from a better time (the '80s). During one of his expeditions he meets Apple, a mysterious girl with a rather large secret.
As their relationship deepens, they accidentally run afoul of Zeus, the self-proclaimed leader of the Wasteland. Zeus, a sadistically droll maniac who murdered The Kid's parents, now controls the Wasteland's most precious commodity: fresh water. When Zeus' gang kidnaps Apple, The Kid joins forces with Frederick, the laconic leader of the legendary Arm-Wrestling Clan. Armed with little more than blind faith and an ancient turbo-charged weapon, The Kid must fulfill his ultimate destiny: destroy Zeus, avenge his parents' death and get the girl of his dreams.