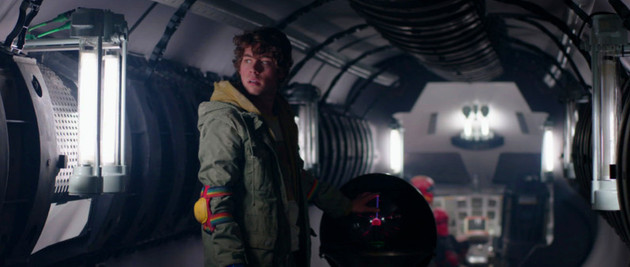 Finally, a fresh update on Turbo Kid has crash landed today. Based on the image above, you can clearly see that Road Kill Super Star (RKSS) have secretly been working on the post-apocalyptic action comedy movie, Turbo Kid, behind locked doors since February 2014.
The movie was first announced at the 2012 Fantasia Film Festival in Montreal after EMAfilms picked it up for production, but the crew, which also involves Jason Eisener (Hobo With A Shotgun, V/H/S 2) and ABCs of Death producer Ant Timpson have managed to keep a nice tight lid on the Canada-New Zealand based project for quite some time now. The very first production image from Turbo Kid has been revealed by Twitch, which gives you a good look at the protagonist named "The Kid", previously played by the fantastic François Gadbois.
Although, Gadbois doesn't appear to be returning, maybe he will make a cameo appearance in Turbo Kid, it's still nice to see that they've at least kept those colorful elbow pads. I have a feeling those things will be trending in the near future because they look pretty damn cool.
There's no word on the street on when RKSS plans to wrap up filming, but in the meantime you can participate in there Facebook event for a chance to be cast as an extra in the movie, if you want. Just make sure you are not overly squeamish because RKSS loves to play with blood and guts.
Prosthetic ones that is!
---
About Turbo Kid
In a post-apocalyptic parallel future of 1997, an orphaned teenager called The Kid scavenges the Wasteland searching for relics from a better time (the 80s). During one of his expeditions he meets Apple, a mysterious girl with a rather large secret. As their relationship deepens, they accidentally run afoul of Zeus, the self-proclaimed leader of the Wasteland. Zeus, a sadistically droll maniac who murdered The Kid's parents, now controls the Wasteland's most precious commodity: fresh water. When Zeus' gang kidnaps Apple, The Kid joins forces with Frederick, the laconic leader of the legendary Arm-Wrestling Clan. Armed with little more than blind faith and an ancient turbo-charged weapon, The Kid must fulfill his ultimate destiny: destroy Zeus, avenge his parents' death and get the girl of his dreams.