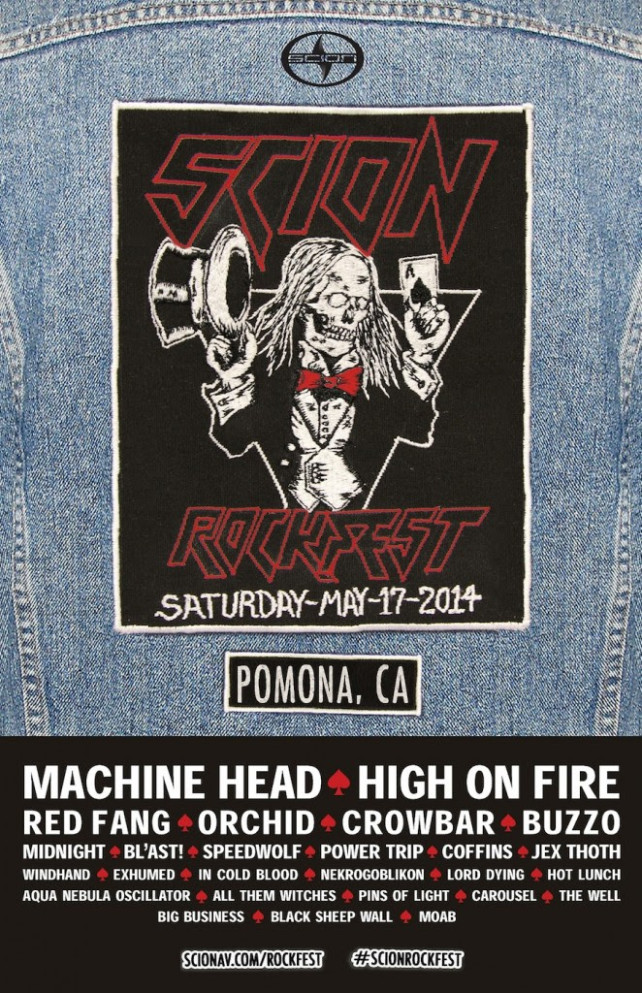 The sixth-annual Scion Rockfest just announced its official and full lineup… and it's not something you're going to want to miss if you're in the Pomona, California, area on May 17th. Machine Fucking Head, Crowbar, Exhumed… does anything else need to be said? I guess ticket information would be helpful: Starting tomorrow, March 26th, at 10 a.m. PST, visit www.scionav.com to make your claim.
See the full lineup listed below, as well as additional information in the press release.
From the Press Release:
Since the 2009 debut of Scion Rock Fest, the annual outing has featured Mastodon, Down, Neurosis, Baroness, Morbid Angel, and the Melvins. A rotating location has found the Fest in Atlanta, Columbus, Tampa, Memphis, as well as the 2011 event, which was also in Pomona.
Scion Rock Fest is one of the many music and cultural events curated by Scion Audio Visual, the entertainment division founded by Scion in 2003. Over the past decade, Scion AV has hosted numerous concerts and tours including the monthly Scion Rock Show in Los Angeles and High on Fire's recent North American trek, sponsored Phil Anselmo's Housecore Horror Festival and Revelation Records' 25th Anniversary celebrations, brought together the brightest minds in the music industry for the annual Scion Music(less) Music Conference and offered numerous free singles and EPs from a wide variety of musicians including Meshuggah, Corrosion of Conformity
and Municipal Waste.
The Scion Rock Fest 2014 Lineup:
Machine Head
High On Fire
Red Fang
Orchid
Crowbar
BL'AST!
Speedwolf
Power Trip
Jex Thoth
Coffins
King Buzzo
Big Business
Hot Lunch
Aqua Nebula Oscillator
All Them Witches
Pins of Light
Carousel
The Well
Midnight
Exhumed
In Cold Blood
Nekrogoblikon
Windhand
Lord Dying
Moab
Black Sheep Wall
Rock Hard \m/