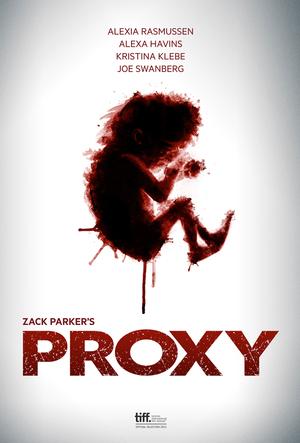 Last year we dropped the very first trailer for Zack Parker's new film Proxy, and it only took a few seconds of watching that trailer to feel discomfort. So, get ready for another round of that feeling because a brand new trailer crash landed today.
The reasons for your uncomfortable feeling as you watch are Parker's seeming joy in using dark sounds and disturbing imagery to draw you into the main character's brutal experience in Proxy. Just picture Danny Lloyd in The Shining, and how grueling his experience was throughout the film. Here, however, Parker tells the story of Esther (Alexia Rasmussen), who is about to embark on a horrible journey that will forever affect her life.
Hit the play button for the trailer in the player above and discover a bit more of the mystery for yourself.
Proxy screened at the Toronto International Film Festival (TIFF) in September, after which it was acquired by IFC with plans to give the film a limited release in theaters and VOD starting on April 18th.
---
About Proxy
On her way home from the doctor's office one morning, expectant mother Esther is brutally accosted by a mysterious, hooded attacker. Disturbed, she retreats into a solitary life, keeping a safe distance from the outside world. As time goes on, she decides to make the effort to reenter society. She seeks comfort in a local support group and it's there that she meets Melanie, a sweet woman from the neighborhood. Forming a new bond, Esther is hopeful that she can move on and start a new life with new connections. This, of course, falls apart one day when she makes a startling discovery that will change everything.