Floridian Death Metal pioneers, Massacre, are back with a new full-length album in 20 years. Scheduled to hit North American shelves on April 1, 2014, Back from Beyond is no fucking joke — even if the album's debut video for the title track does look to be inspired by Dethklok. Of course we understand that not everything that combines heavy metal and cartoons is related to Dethklok, which is cool, Massacre could have just as easily been inspired by Scooby-Doo for this. There is a van in the video after all.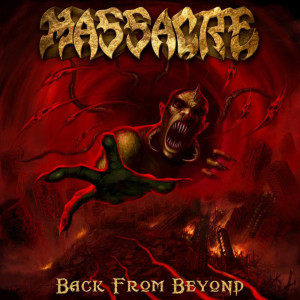 At any rate, Decibel Magazine has called Back from Beyond, "pure Florida death metal, the way it was meant to be played from the Sunshine State." If you don't believe that, then check out the video and track in the player above, and prepare to have your ears raped.
The video for "Back From Beyond" was directed by Doug Cook and animated by Nick Johnson and Ryder McLean. Terry Butler (bass) comments:
[We're] very proud of the 'Back From Beyond' video. It has a nice campy horror vibe, yet at the same time is cutting-edge, and we think it can connect with a variety of audiences. Doug Cook did an amazing job with this one!!!
That's right, this video definitely has a horror vibe. As you'll see, it features Massacre arriving at and playing a show. The fans are having a great time… until vampires strike. By some occult force, Massacre summons a beast from beyond (see what I did there?), which then kills everyone but the band. In the end, Massacre plays for a pile of corpses. Blood and metal unite!
Want more from Massacre? Then check out the brutal new track "As We Wait to Die" here:
)
Returning to the roots of Massacre's early '90s trademark sound, Back From Beyond was recorded and mixed by Tim Vazquez of CGM Studios, Florida, and features original members Rick Rozz (Guitars: ex-Mantas/Death) and Terry Butler (Bass: Obituary, ex-Death/Six Feet Under), as well as Ed Webb (Vocals: ex-Diabolice/Eulogy) and Mike Mazzonetto (Drums: ex-Pain Principle). Back From Beyond features cover artwork by Toshihiro Egawa (Cryptopsy, Krisiun, Devourment) and will contain the following track-listing in its standard USA CD edition:
Back From Beyond USA special edition jewelcase track listing:
1. The Ancient Ones
2. As We Wait To Die
3. Ascension Of The Deceased
4. Hunter's Blood
5. Darkness Fell
6. False Revelation
7. Succumb To Rapture
8. Remnants Of Hatred
9. Shield Of The Son
10. The Evil Within
11. Sands Of Time
12. Beast With Vengeance
13. Back From Beyond
14. Honor The Fallen
Bonus Tracks:
15. Corpsegrinder (DEATH cover)
16. Mutilation (DEATH cover)
The special edition USA jewelcase, in addition to the following formats, are now available for pre-order at CM Distro:
– Special edition USA jewelcase CD
– Limited edition digipak CD with alternate artwork and 2 bonus DEATH cover tracks
– Black LP, 180gr
Massacre Live Dates – 2014:
May 2 – Tilburg (The Netherlands) – Neurotic Deathfest / http://www.neuroticdeathfest.com
May 3 -Powys (UK) – Rad Fest / http://www.rad-fest.co.uk
May 4 – Leeds (UK) – Kin Hell Fest / http://www.kinhellfest.co.uk
May 5 – London (UK) – Barfly
May 6 – Oberhausen (Germany) – Resonanzwerk w/ LAY DOWN ROTTEN
May 7 – Aalen (Germany) – Rock It w/ LAY DOWN ROTTEN
May 8 – Hamburg (Germany) – Bambi Galore w/ LAY DOWN ROTTEN
May 9 – Dresden (Germany) – Scheune w/ LAY DOWN ROTTEN
May 10 – Siegen (Germany) – Vortex w/ LAY DOWN ROTTEN
May 11 – Brussels (Belgium) – Magasin 4 w/ PESTILENCE
Rock Hard \m/