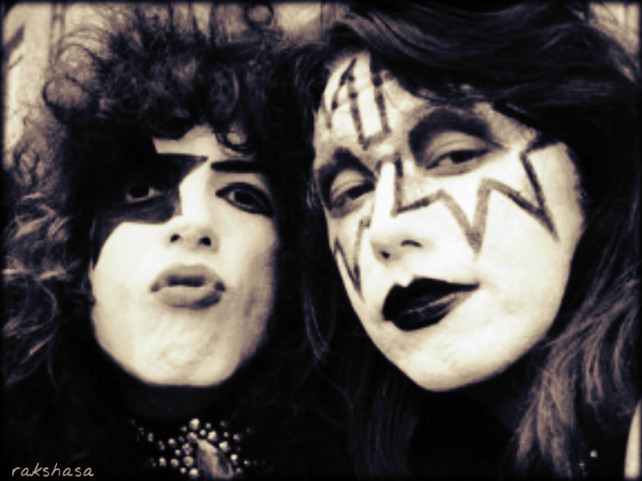 This really sucks, and from a KISS fan's outside perspective it seems really petty on the part of Gene Simmons and Paul Stanley. Of course we really only know one side of the story, but there is some evidence that indicates that half of KISS' original lineup doesn't want a reunion performance at the legendary band's induction into the Rock and Roll Hall of Fame. That half is intent on performing with the current incarnation of KISS, which includes Tommy Thayer (guitar) and Eric Singer (drums).
What we know for sure is what Ace Frehley said to New York's Q104.3 FM:
I don't think KISS fans are gonna be too excited and happy about the news, 'cause at this juncture, Paul [Stanley] and Gene [Simmons] have decided to perform with Tommy and Eric, and it looks like the Rock And Roll Hall of Fame is going along with it.
Ace went on to say:
The last time I was on [this radio show], it was a very exciting and happy call. And the Rock And Roll Hall Of Fame was very excited about having the four original members who are being inducted to perform at the ceremony. And that was shot down by Paul and Gene. And now it's kind of, like, if I'm not gonna put on the makeup and do a three-song reunion for the fans, then what am I gonna do? And right now I'm not even sure if I'm gonna show up for that, you know?!
Ace also said that he would not perform alongside the current KISS lineup, if that ever became an option.
I think it's a shame and total bullshit if it is, in fact, true that Simmons and Stanley have ruled out a reunion performance. No one is asking for a full-fledged reunion of the band for another "Farewell" tour. All we would like is for the founding fathers of one of rock's greatest bands to be able to come together for an induction performance, makeup or no. Honestly, though I like pretty much everything that KISS has done up until Psycho Circus, what's really being inducted into the Hall of Fame is the band's first 10 years. And what does that first 10 years include? Oh, yes, Ace Frehley and Peter Criss.
Gene recognized this in a recent interview with Rolling Stone, in which he even stated that he would be open to doing the induction performance with the former KISS members:
They were equally important in the formation of the band. When you have kids with your first wife, you give kudos. The fact you got remarried doesn't delete or minimize the important. Hey, 'You have gave birth to this thing, KISS, with Ace, Peter, Paul and Gene.'
In a seperate interview about a year ago with Radio.com, Gene said that Ace and Peter had no more chances left to perform with him and Paul:
How many chances in life do you get? When you stick your hand in the fire, you get burned the first time. Fire and nature doesn't care if you're a good guy or a bad guy. Both of these guys had three chances to be in the band and three times they fucked it up. They were every bit as important as we were at the formation of the band and they would have been the ruin of the band had they continued in it… When you have a cancer in your system, it's best to cut it out as fast as you can. It used to be a part of your body, then it turned into cancer, so you gotta cut it out.
It sucks, and there's just way too much drama to deal with. KISS has been snubbed for so long by the Hall of Fame that it's a real disappointment that when the honor finally does come that it gets soiled with this shit.
Rock Hard \m/