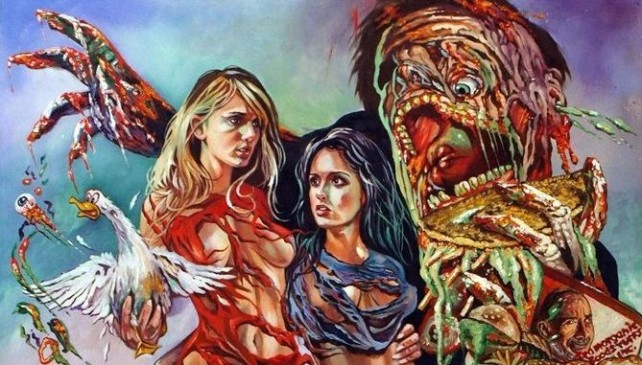 Return To Nuke 'Em High, Vol. 1 has a confirmed Blu-ray and DVD (Anchor Bay) release date. So after the New York and Los Angeles theatrical run of the film from January 10th through January 17th, make sure to save some cash for March 18th. As fans have demanded, if not they form an "Occupy Wall Street" type of mob outside Lloyd Kaufman's shack of a home, the Blu-ray/DVD comes packed with exciting bonus features. More on those later.
As any Troma fan knows, Return to Nuke 'Em High, Vol. I (and II) is a return to the glory days of Class of Nuke 'Em High (1986). This time around, however, Kaufman has decided to take on some of the issues of today, such as organic foods and such.
Here's a description of the film, which sounds like it was penned by the same scribe who authored such cinematic classics as the Toxic Avenger and Sgt. Kabukiman N.Y.P.D.:
Welcome to Tromaville High School. Your typical high school populated with your basic football jocks, wannabe prom queens and glee club hopefuls. Did I say "typical?" After all, this is Tromaville High, where the glee club has mutated into the hideous Cretins after eating tainted tacos courtesy of the Tromorganic Foodstuffs Conglomerate. Chrissy and Lauren, two innocent lovers/bloggers, must not only fight the adolescent beasts and freaks, they must also defeat the evil Conglomerate. Will they, along with their mutant pet duck, save Tromaville High and the rest of society? Return to Nuke 'Em High, Vol. 1 has it all – satire, sci-fi, plenty of Troma's world famous green goo, themes of anti-bullying and LGBT rights. If that isn't enough, how about death by glee club, high falls, meltdowns and fiery explosions? Wait there's more! There's plenty of exposed teen viscera (and breasts!) and love triumphing over prejudice. Just like The Breakfast Club, Ferris Bueller's Day Off and Glee – only 100% Troma style!
The cast of this future universe-saving film includes Catherine Corcoran (The Lovely Bones), Asta Paredes (Occupy Cannes!), Debbie Rochon (Tromeo and Juliet), Motorhead's Lemmy Kilmister, and introducing Kevin the Wonder Duck!
Bonus Features:
Return to Nuke 'Em High, Vol. 1 Blu-ray and DVD boasts the following "Troma-tic" extras:
-Audio Commentary with Actors Zac Amico, Clay von Carlowitz, Catherine Corcoran, Stuart Kiczek, and Asta Parades
-Audio Commentary with Writer/Producer/Director Lloyd Kaufman, Producer Justin A. Martell, Executive Producer Matt Manjourides, Associate Producer Regina Katz and Writer Travis Campbell
-Casting Conundrum
-Pre-Production Hell with Mein-Kauf (Man)
-Special (Ed) Effects
-Cell-U-Lloyd Kaufman: 40 Years of TROMAtising The World
-"Architects of Fear – Edison Device" Music Video
–Return To Nuke 'Em High, Vol. 2 trailer
For more information about Return To Nuke 'Em High, Vol. 1, visit: return2nukeemhigh.com
http://return2nukeemhigh.com/.